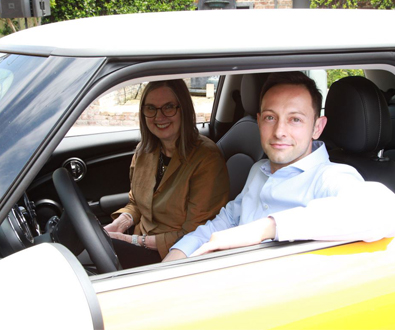 May 31, 2016
When Mattia Prosperi, MEng, PhD, Preeminence Associate Professor in the Department of Epidemiology at the University of Florida in the College of Public Health and Health Professions and the College of Medicine, heard about the Go Mini Scientific Challenge, he gathered some colleagues and thought about how a MiniSeq System and MINI Cooper could be used in their research. As the winner of Illumina's contest, Mattia will be working with an interdisciplinary team at his university and using splatology to track the spread of mosquito-borne viruses in Florida. With his MiniSeq, he will sequence pathogens found from the remains of dead insects scraped from the bumper and windshield of the MINI Cooper.
With Florida's tropical climate, it's not a question of if mosquito-borne viruses will appear, it's a question of when, where, and how severe the epidemics will be. That's where epidemiologists like Mattia come in. They try to establish interventions to control the mosquito population, raise awareness of the disease symptoms, and ensure that affected patients seek and receive appropriate medical care.
Epidemiologists are challenged in their ability to track the spread of viruses in the mosquito population. This means that viruses can spread into new geographies undetected and catch public health officials and health care providers by surprise when people begin to get sick.
"It is vital for us to understand if chikungunya, dengue and zika viruses are entering Florida or if they have already entered, but aren't established yet," Mattia said. "Our study aims to understand the diversity of pathogens in Florida at the genetic and vector level which can be used to implement infection control at a public health level."
The MINI Cooper will do double duty. It will be driven by community health workers as part of a University of Florida program called HealthStreet. The community engagement program aims to bridge gaps in health care and health research by assessing health concerns, conditions and research perceptions of community members. They also provide referrals for medical and social services for individuals in the communities they serve. HealthStreet conducts outreach in 17 Florida counties spread out across the state.
"One of many objectives of HealthStreet is to provide community members with opportunities to participate in health research relevant to their health conditions and concerns," noted Linda Cottler, PhD, MPH, FACE, Chair of the Department of Epidemiology at University of Florida in the College of Public Health and Health Professions and College of Medicine, and Director of HealthStreet. "In Florida, mosquito-borne viruses, especially those like Zika that aren't yet well-understood, are significant public health concerns in our communities. Adding the MINI Cooper to our program will not only help us grow HealthStreet to better serve Florida communities, it will also further our work to involve more community members in health-related research."
Since the MINI Cooper will be driven throughout the state of Florida, community health workers will be able to collect the insects that splat on the bumper and windshield (alongside other means of collection to enhance yield, such as placing traps), sequence them and based on the car's location, Mattia and his team will be able to track changes in the geographic regions where viruses are present in the mosquito populations, and will be able to understand how these pathogens travel in the state by looking at mutations present in mosquito populations over time. The information will be used by public health officials to improve prevention and treatment programs.
"Mattia's study of mosquito-borne pathogens is an excellent example of the creative and impactful scientific studies that are possible with next-generation sequencing," said Sam Raha, Vice President of Global Marketing for Illumina. "As a company committed to unlocking the power of the genome to improve human health, we're excited to see how the MINI Cooper and MiniSeq power this effort to track tropical diseases in Florida."
Learn more about Go Mini Scientific Challenge Winners Hongmei Li-Byarlay and Una McVeigh.