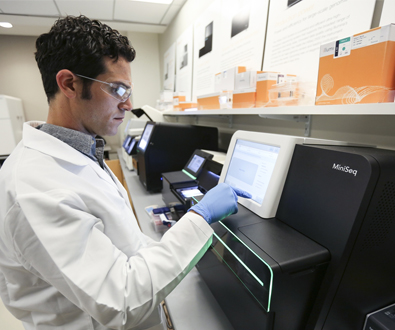 June 7, 2016
In 2006, Illumina launched the Illumina Certified Service Provider (CSPro) Program to certify core and commercial service labs in their proficiency to delivery best-in-class data using Illumina technologies. Now, Illumina is evolving the certification program under a new name, the Illumina Propel Certification Program. Propel offers an affordable, expanded menu of next-generation sequencing certifications including MiSeq, NextSeq 500/550, HiSeq X, and HiSeq 3000/4000, in addition to a more streamlined, flexible process to achieve certification.
"These labs have been fundamental to Illumina's growth for many years," said Rob Cohen, Director of Marketing for Core Labs. "Our customers told us that they wanted benefits that help drive, or propel, their business to new levels. We started with our customers and worked backwards to design a program with that goal in mind."
Under the new certification program, upon demonstrating competency with select Illumina products, participating laboratories will gain access to a set of benefits such as fee-based training courses, consulting services, access to select new products at reduced prices and more. An annual recertification will ensure that labs maintain a high level of proficiency that they can use to differentiate their services.
Eligible laboratories can learn more about the Propel Certification Program by visiting http://www.illumina.com/services/service-partners-and-programs.html.