Leading labs choose the MiSeq System to generate data for targeted sequencing. From metagenomics and small genome sequencing to gene expression, amplicon sequencing, and HLA typing, the MiSeq System does it all.
In our Research Spotlight series, we'll explore how top scientists are using this powerful desktop system to advance their work.
Exploring Microbial Communities Research Spotlight

See how Dr. Christopher Taylor at Louisiana State University Health Sciences Center (the second and final winner of the MiSeq Research Focus contest) uses MiSeq to study the microbiota of humans and model organisms.
Download interview »
Pollination Network Ecology Research Spotlight

Learn how Dr. Alexander Keller at Würzburg University (our first winner of the MiSeq Research Focus contest) uses MiSeq to understand the ecology, current threats, and resilience factors within pollination systems.
Download interview »
HLA Research Spotlight

See how MiSeq is enabling Dr. Erick C. Castelli of São Paulo University to develop an HLA database and explore human HLA variation.
Download interview »
Get inspired.
Read more Research Spotlights.
Research spotlight archive »
Latest and Final Reagent Winner:
Our second and final winner of $5000 in MiSeq reagents for the MiSeq Research Focus contest is Dr. Christopher Taylor of the Microbial Genomics Resource Group, an Associate Professor in the Department of Microbiology, Immunology & Parasitology at Louisiana State University Health Sciences Center in New Orleans, Louisiana.
"Our group uses the Illumina MiSeq to explore microbial diversity in the gastrointestinal tract, urogenital tract, airways, and hospital environments. Differences in bacterial community structure in these environments often correlate with diseases and we aim to advance diagnosis and treatment of a variety of conditions including sexually transmitted infections, obesity, diabetes and cancer. The MiSeq has allowed us to explore these communities at more significant depth and with more accuracy than pyrosequencing, which used to be our method of choice. Sequencing by synthesis has proven to be more accurate, cost effective and convenient for our translational research projects. Our new medical center will be opening its doors this summer and we intend to use these sequencing reagents to augment a joint study of the host and environmental microbial interactions as patients are moved from intensive care units in the old hospital to the new hospital environment. We hope that our findings will have an impact on the standard of care regarding environmental precautions and particularly stemming the spread of antibiotic resistant microorganisms." – Dr. Taylor
Reagents Winner #1: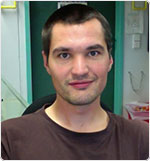 Our first winner of $5,000 in MiSeq reagents is Dr. Alexander Keller of the Molecular Biodiversity Group, Zoology III, University of Würzburg, Germany.
"Winning the contest is a huge boost for my young investigator research group. Our research focus lies on the triangle of plants, pollinators and microbes, where we study status and changes in diversity, assembly structure and community gene content. The MiSeq 2x250bp reagents are perfectly suited to assess microbial diversity and plant-pollinator interactions via amplicons as well as shotguns of microbial genomes, thus we will be very happy to use the prize on these tasks." – Dr. Keller