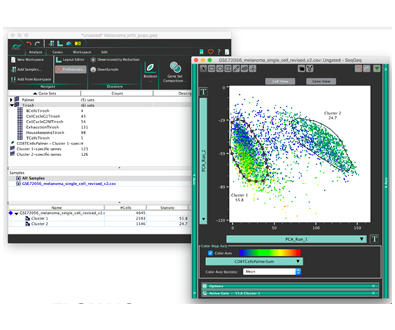 April 28, 2017
In 2016, Illumina partnered with FlowJo, LLC, the producer of FlowJo, market-leading software for single-cell analysis, to develop a new software application for secondary and tertiary analysis of next-generation sequencing (NGS) data sets.
Following the successful launch of the Illumina® Bio-Rad® Single-Cell Sequencing Solution, Illumina is proud to announce that the SeqGeqTM software, which seamlessly integrates with the single-cell sequencing workflow, is now available.
The software is a powerful tool for exploring single-cell NGS data and has an intuitive drag-and-drop interface that makes it easy to use for new users as well as researchers already familiar with the FlowJo solution. The tool enables researchers to identify and explore subpopulations and differentially expressed genes, while generating publication-ready figures with ease.
"We are glad to put SeqGeq in the hands of researchers using NGS to add depth to their research into cell function, disease progression, and therapeutic response," said Michael Stadnisky, PhD, CEO of FlowJo, LLC. "The new offering enhances the power of single-cell research by empowering robust exploration of data from Illumina NGS runs."
"The availability of SeqGeq further enhances our comprehensive solution for single-cell analysis using NGS," said Kevin Taylor, PhD, Senior Market Manager at Illumina. "Along with Bio-Rad's best-in-class single-cell droplet technology, we provide our customers with a complete workflow solution for this application."