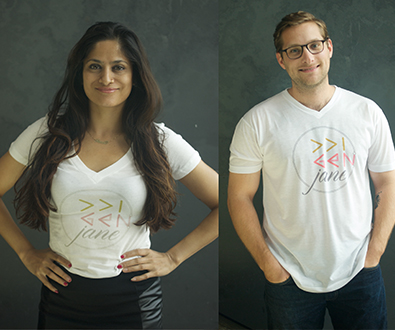 May 19, 2016
Women of the world − imagine obtaining easy and accessible insights into your reproductive health and fertility every month. NextGen Jane, Inc., one of the genomics startups accepted into Illumina Accelerator's third funding cycle, is working to empower women by giving them access to actionable health data through its proprietary smart tampon technology. The goal is to help women make informed decisions about health and fertility using data they have access to every month.
NextGen Jane founders Ridhi Tariyal and Stephen Gire talk about their vision for the company, their experience with Illumina Accelerator and what's next.
What was the motivating factor for each of you in starting NextGen Jane?
Ridhi: As a woman in my 30s, I was looking for ways to understand my fertility, and there just weren't many resources available, especially outside of the fertility clinic. I was able to find data that was useful in understanding my own fertility by launching a reproductive health clinical trial for which I was patient zero. While that was an empowering moment, it struck me that most women don't have access to such resources. This helped shape the central premise of our philosophy – women should have access to their health data to make smart life decisions.
Stephen: I spent 10 years in Africa doing research on infectious diseases where infrastructure was lacking and we had to innovate on the fly. I became really good at developing ways to generate high-quality health information using simple solutions and elegant design. Developing healthcare solutions for at-home use requires a similar approach. Sometimes simple innovations make the biggest impact.
What is your long-term vision for the company?
Ridhi: Our long-term goal is optimal and universal access to preventative care for women around the world. We're going after endometriosis and ovarian cancer first. They're big problems that need to be addressed quickly. Eventually we want this to be part of a normal regimen women incorporate into their lives every month. Many of us already self-track calories and daily fitness. Soon, we want women to track their reproductive health, so they can manage their fertility on a much more granular basis. We're also interested in using our device as a research tool to engage investigators in their work.
As you mentioned, you're focusing on endometriosis and ovarian cancer right now. Why those conditions specifically?
Ridhi: Endometriosis isn't usually talked about, but it affects about 10 percent of women. The average time between the onset of symptoms (which includes debilitating pain) and diagnosis is 7 years in the U.S. A very high percentage of women with endometriosis eventually become infertile because their condition goes undiagnosed. It just doesn't make sense! Stephen and I don't want this to be the world we live in. Early diagnosis can improve outcomes, and that's what we're working to do here.
Stephen: The lack of a good diagnostic for ovarian cancer has led to a dismal 5-year survival rate because most patients present in late stages. The tampon gives us access to cell populations that you just can't get from a blood draw. Given this access to reproductive tissues, we think the early detection of ovarian cancer might be in our wheelhouse.
Talk about the technology as it stands right now. What's the goal?
Stephen: When we came into Illumina Accelerator, we had a prototype that was functional but lacked reproducibility. The system we created extracts fluid from a tampon for genomic analysis. Through Amanda [Cashin, co-founder and Head of Accelerator] we were introduced to Fathom, a design firm that has helped us optimize that prototype to improve the overall yield and efficiency. We're currently producing our device for our clinical trial. Those units will generate the pilot data that we need to approach the FDA for regulatory approval. Once we have approval, we can begin arming women with valuable tools like our Smart Tampon to better navigate their health.
NextGen Jane was chosen as one of four genomics startups in Illumina Accelerator's third class. How has your experience been so far?
Stephen: Illumina Accelerator has played a pivotal role in our success so far. With our initial grant, we were able to generate our first genomic data set. It really did help accelerate what we're doing. Now, we are on the cusp of generating terabytes of data for women's health.
Ridhi: When you're doing something very risky, you generate interest but it's hard to get that first person to commit. It's a common challenge for those starting out. Once investors saw Illumina Accelerator committed funding, space and next-generation sequencing capabilities, it galvanized our financing event. Illumina also has a depth of expertise, specifically in the women's health business. We've had access to Illumina's technology and their rich human capital. It's also great to have a community of startups that are pursuing next-generation sequencing capabilities, and we've gotten really close to some of them. Prior to joining Illumina Accelerator, we worked in coffee shops. It's something else to have this small, intimate group that's using the same technology and familiar with the jargon and the hiccups of a genomics startup.
For more information on Illumina Accelerator, click here.