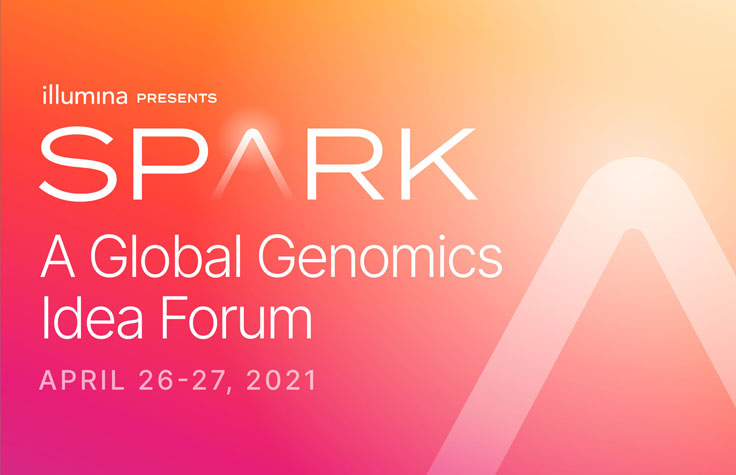 April 25, 2021
When will precision medicine truly take off? How can healthcare be more inclusive? What are the next steps in the fight against COVID and future pandemics? What does a global Bio Force look like?
In honor of DNA Day, Illumina is convening world leaders in genomics, healthcare, and technology to push the genomics ecosystem forward and inspire change. Bill Gates and Dr. Sanjay Gupta, plus Nobel Laureates, Dr. Frances Arnold and Dr. Jennifer Doudna, along with the brightest minds in the industry, will come together to tackle these questions and many more at SPARK, Illumina's inaugural genomics idea forum. On April 26 and 27, 2021, attendees from around the world will experience a virtual series of keynotes and panels.
The Human Genome Project fueled the spark that accelerated genomics innovation throughout the 21st century. Now, we are igniting conversations to shine a light on those innovations and to inspire the breakthroughs of tomorrow.
We believe the genomics revolution will fundamentally change the standard of healthcare. So, we created this distinguished gathering for the common purpose of accelerating the most transformative technology of our lifetimes.
This past year has amplified the critical role that genomics plays in revolutionizing the era of biology and the genome. Genomics has provided crucial understanding of the virus that, for the first time in human history, united the entire world in focusing to solve a single problem. Over the next decade the possibilities seem endless.
In honoring the enormous benefit of the Human Genome Project and the breakthroughs that genomics offers in healthcare and beyond - our cast of thought leaders at SPARK, together for the first time, will bring their insight and expertise to discuss the future of genomics and how it can expand into everyday clinical practice.​
Through moderation from Illumina's own key opinion leaders, to in-depth discussions with luminaries like Francis Collins of the National Institutes of Health — SPARK is providing a forum for innovators from a number of different backgrounds and industries to contribute their thoughts. Professor Dame Sue Hill of National Health System (NHS) England, Charles Rotimi, Director of Trans-National Institutes of Health (NIH), and Joel Dudley, Chief Science Officer of Tempus are just a few of the change-makers that will sit together in thoughtful discussion.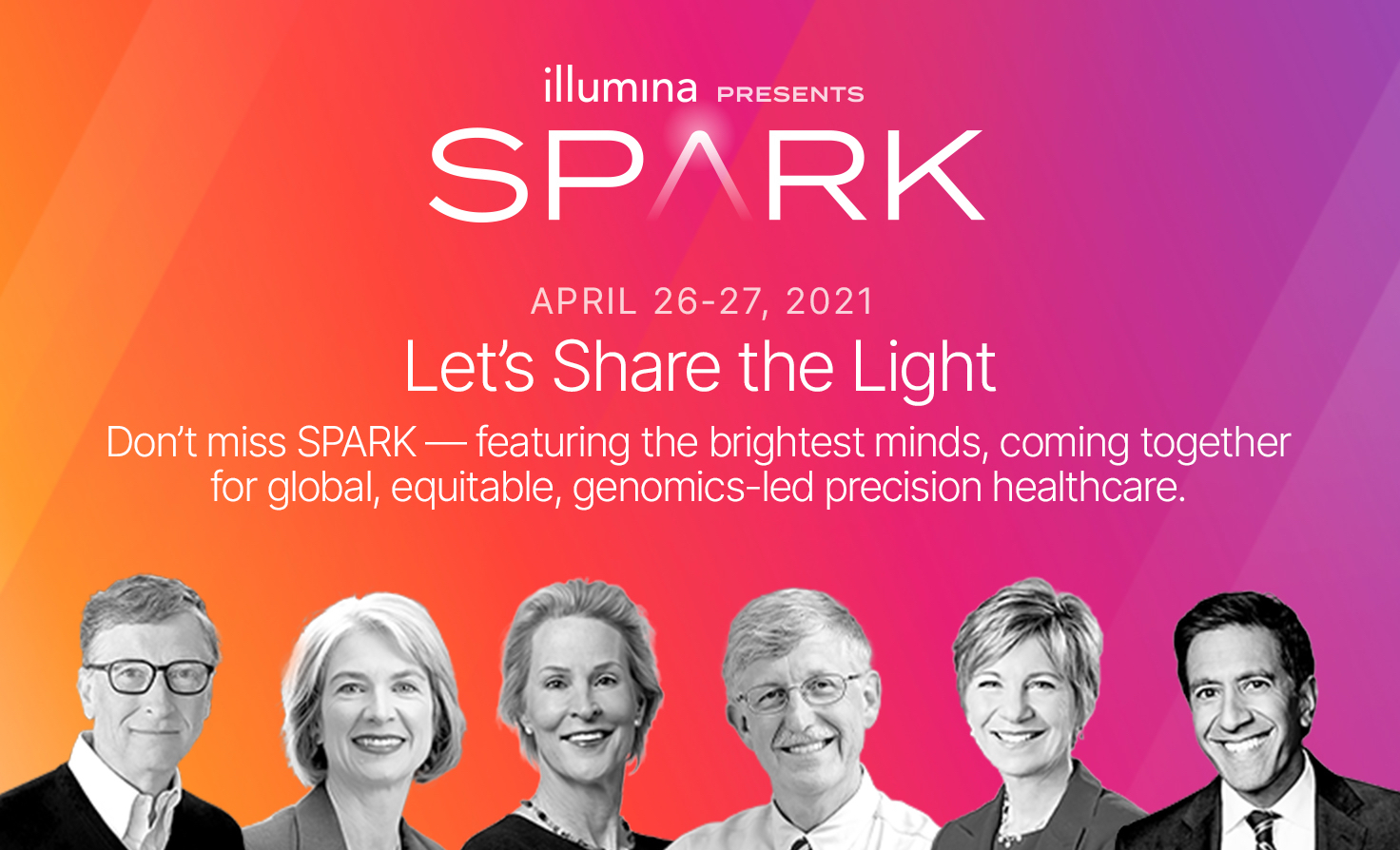 "We must work together to realize the power and promise of genomics," adds Kathryne Reeves, Chief Marketing Officer of Illumina. "SPARK is a unique gathering of minds – a place where questions are born and inspiration follows."
As we shine a light on the innovations in genomics today to encourage the breakthroughs of tomorrow, we are thrilled to facilitate conversations at SPARK and in our community. This month, 170+ Illumina employees are volunteering their time to empower students – our next generation of future scientists, innovators, and trailblazers.
Through the thoughtful conversations at SPARK and STEM education initiatives like the Future is Bright campaign, Illumina honors DNA Day and the promise genomics holds for the future.
Admission to SPARK is free and attendance is virtual. Bring your best ideas and check in on Wednesday, April 28th at 6:05 a.m. for an announcement from Illumina.
We look forward to seeing you there.