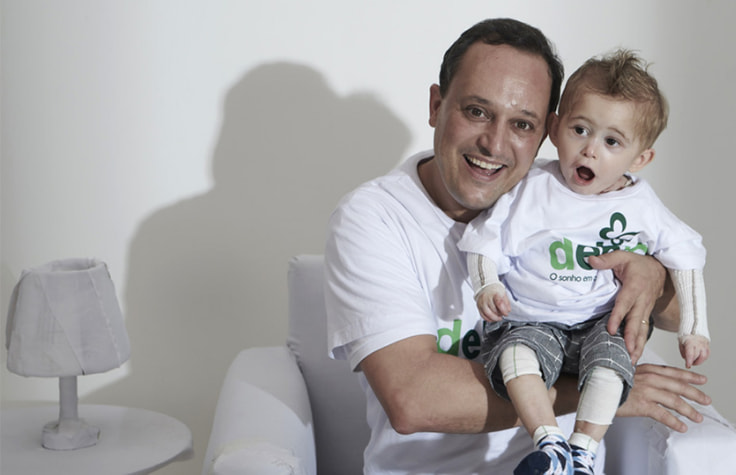 May 26, 2022
DEBRA International has a simple mission: help patients and families dealing with epidermolysis bullosa (EB), a rare genetic condition that affects collagen production, making skin and other membranes quite fragile.
In EB cases, the slightest pressure can cause skin damage, but it's also a systemic disease, since the collagen protein is vital for many tissues. Even the wrong kind of meal can cause intense gastrointestinal distress for EB patients.

"You can imagine the impact it causes for parents with a young baby diagnosed with EB," says Leandro Rossi, president of DEBRA Brasil. "They have to pay attention to the child's skin but also internal problems, where it's a daily concern over how they're going to feed their baby."
EB affects about 500,000 people around the world, and it can be difficult to treat. Because the disease is so rare, and there are four major disease types and 30 subtypes, it can be challenging to get a precise diagnosis, which can profoundly impact treatment.
In the past few years, genomic sequencing has emerged as a powerful tool to diagnose EB and get patients the treatments they need. In early 2021, Rossi and colleagues partnered with Illumina and Mendelics to offer exome (only the genes) sequencing for EB patients throughout the country. Mendelics is the oldest and largest Brazilian laboratory specializing in next-generation sequencing; its mission is to democratize fast and accurate data-driven genetic diagnoses.
The program was launched last year on Rare Disease Day, February 28. With around 2,000 EB patients in Brazil, the team set a goal to sequence 400 of those patients, starting with those that had never had a genetic test for EB.
Rossi was partially inspired by his young nephew's experience. The boy was initially diagnosed with one of the more severe EB disease types, but sequencing showed he actually had EB simplex, the least dangerous variant.
"When we received that report, you can imagine the psychological impact," says Rossi. "I had to call the specialists to confirm it was true. And the family was so happy because the diagnosis had gone from severe to simplex."
The logistical challenges
While Brazil has government-funded healthcare, exome sequencing is rarely reimbursed, making the DEBRA program incredibly important for families who might never afford these tests.
"Either the patients pay from their pockets, or they do not get access to whole exome sequencing," says Rossi. "We did this for free because it's socially responsible to do something for this small population."
The immediate challenge for DEBRA, Mendelics, and Illumina was accessing patients to get good samples. Some live in remote areas around the Amazon basin and often lack computer access. The group reached out to physicians, conducted social media campaigns through YouTube and WhatsApp, and contacted families by phone.
Many families were mystified by the sample collection process, which was done by swabbing saliva. The team helped them retrieve and send high-quality testing samples (only 15 of 400 had to be resampled) and set up medical exams to confirm the diagnoses.
Quite often, exome results showed patients had been misdiagnosed. "When they signed up for the program, we asked if they already had a clinical diagnosis," says Rossi. "Then we ran the exome, which changed the diagnosis in 46 percent of these cases."
The fruits of precision
Accurate results mean more precise treatments. Though no parent wants to learn their child has worse disease than they previously expected, the information will inform the most appropriate care.
In addition to helping kids with EB, the sequencing program also provides vital information for adults who want to have more children. Rossi notes that some extended families have many EB cases, indicating they should take great care before conceiving. DEBRA schedules Zoom meetings with all participants and their genetic counselors.
For Rossi, DEBRA Brazil and their collaborators, exome sequencing is driving amazing benefits for these patients and their families. Better care can lead to fewer hospitalizations, improved quality of life for patients, and peace of mind for them and their families.
"If we manage a newborn with EB correctly, they should have a strong life expectancy," says Rossi. "We also plan to present these results to the Brazilian government to support better health policies. This goes beyond EB. Many inherited diseases need to be diagnosed accurately, and we believe sequencing is the way we do that."