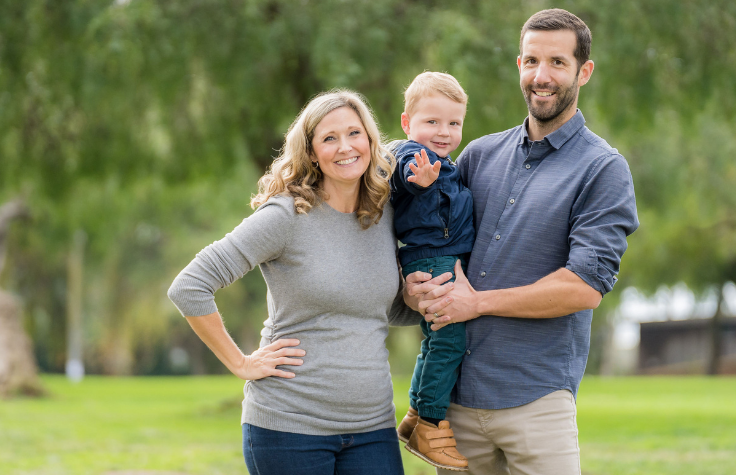 April 16, 2022
In June 2019, Christina and Daniel Kettler were barely home from the hospital with their newborn son when they received an urgent phone call. They needed to rush back immediately: A routine screening, called the heel stick test, had revealed that Fitz, their firstborn baby, had Severe Combined Immunodeficiency (SCID). SCID is a rare condition also known as "bubble boy disease."
"To be told your perfect-looking baby has something so serious we needed to immediately get to an isolation room at the hospital was devastating," says Fitz's mother, Christina Kettler. "We were stunned at how scary his initial diagnosis was and that it would only get worse."
Quarantined at birth
In essence, Fitz had no functioning immune system. A "killer cold" could be just that, and many babies with SCID do not live to see their first birthday. Further testing through Rapid Whole Genome Sequencing (rWGS) at Rady Children's Institute for Genomic Medicine in San Diego, California (US), identified the specific kind of SCID Fitz had, known as Artemis, or ART-SCID.
The diagnosis was made within 92 hours. In newborn and pediatric intensive care units (NICU and PICU), where ill newborns are often treated according to their symptoms, a speedy diagnosis can inform treatment and prevent seizures or other injuries that might aggravate or solidify a disorder. Because the Rady clinicians could name the specific gene mutation Fitz had, they knew he was eligible for a gene therapy clinical trial.
Fitz was able to receive gene therapy in San Francisco—a process of extracting his stem cells, injecting them with a corrected copy of the SCID-causing gene, and infusing them back into his body. The treatment succeeded in creating from scratch an immune system that would function properly and support Fitz.
Celebrating genomics, DNA Day, and life
In a few months, Fitz will celebrate his third birthday as a happy, healthy, and active toddler. But before that, he and the Kettler family will help raise awareness for National DNA Day (April 25), which commemorates the discovery of DNA's double helix in 1953 and the successful completion of the Human Genome Project in 2003.
Fitz and his family will throw the first pitch during the April 24 San Diego Padres vs. Los Angeles Dodgers baseball game at San Diego's Petco Park. Tens of thousands of baseball fans (and a contingent of proud Illumina employees!) will come together to celebrate Fitz and the victory of his health. It's an opportunity to raise awareness for DNA—the unique blueprint of each of us—and its incredible potential to unlock information that improves human health.
Illumina is celebrating DNA Day all month long to highlight the latest advancements in genomic research and honor the genomics all-stars it serves: researchers, clinicians, and patients around the world.
To learn more about Illumina's DNA activities, click here.
To watch a video of Fitz's story, click here.

To read further about whole-genome sequencing and its advantages, click here.
The Illumina Global Patient Advocacy team works with patients, families, carers, and the groups that represent them in order to build evidence and advocate for the positive impact of genomics utilization. Their stories are a testimonial of the potential impacts and benefits genomics can have on rare disease. One person's experience is not predictive of results in all rare disease cases, which may differ based on a variety of factors. Results in other cases may vary.