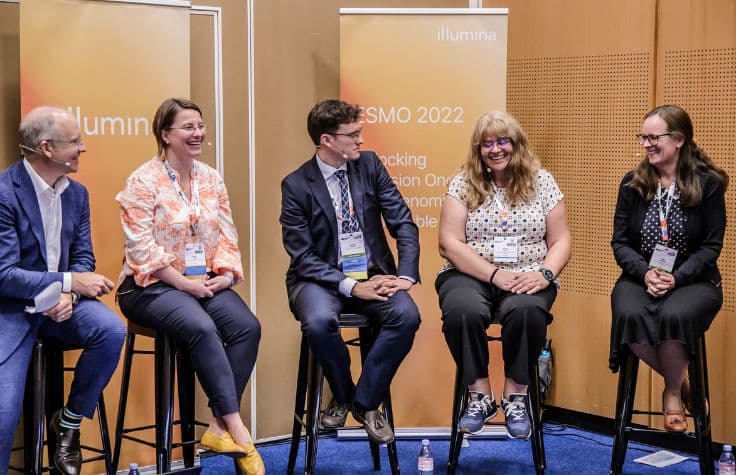 September 23, 2022
The European Society of Medical Oncology (ESMO) annual congress convened earlier this month in Paris, where, Illumina presented key abstracts demonstrating the clinical utility of comprehensive genomic profiling (CGP). CGP is a next-generation sequencing (NGS) approach that uses a single test to assess hundreds of genes—including relevant cancer biomarkers, as established in medical guidelines and clinical trials—for tumor therapy guidance.
During an invitation-only roundtable at the conference, Illumina Senior Vice President and Chief Medical Officer Dr. Phil Febbo said: "I do believe that having a complete understanding of an individual's cancer is the best way to provide best care for patients. It's amazing to be in this role and at a company that's really driving to make this available and accessible." Four panelists at the roundtable discussed the value of CGP in case studies relating to prostate cancer, liquid biopsy, and homologous recombination deficiency (HRD) detection and diagnostics.
In addition to these case studies, the doctors talked about their methods of using CGP in their practice, their distinction between testing tissue versus liquid, the challenges of attracting talent to the lab, the business of collecting and interpreting data, and the need to improve care and—most importantly—outcomes.
Dr. Nicole Pfarr, head of both the Molecular Diagnostic Unit and the Next Generation Research Facility at the Technical University of Munich, spoke about a drive to build collective knowledge: German universities and hospitals are compiling genetic data to establish a national database. With that in mind, more testing will mean more data. "We want to include more in the Molecular Tumor Board discussions," she said. "It used to be that we would do a large gene panel and if we found something, then we would do HRD [testing]. Now we do all the testing up front. Large gene panel, HRD, translocations included. We do this for all the ovarian cancer, breast cancer, pancreatic and prostate cancer. And, astonishingly, we also find high HRD scores in sarcomas."
While testing and generating data has been critical to developing the field of precision oncology, the data itself carries great significance from a patient perspective. "I've had some interesting discussions about the return of data," said Dr. Bettina Ryll, founder of the Melanoma Patient Network Europe and former EU Cancer Mission Board member. "Some patients want the data. They can't always tell you why or what they're precisely going to do with it, but being in possession of one's own data—in particular genomic data—returns some ownership of the disease and might help to cope. This ownership gives back some of the control you have lost in the cancer diagnosis, and we should not underestimate the psychological value of that. I have medical training, I have a science background, and I can tell you, when my husband was diagnosed with stage 4 melanoma I realized how much I had no clue how it is to go through it. I had always considered cancer a medical issue, but if you're there personally you see the psychological issue is half the problem—and it hits the patient, the carers, the people who are there, and it's huge."
Ryll, who lives in Sweden, also urges the medical community to support greater genomic literacy among patients. "I preach a lot about the difference between somatic and germline," she said. "One of the first questions I always get is 'Is it possible I have passed this on to my children?' People are very worried and experience huge feelings of guilt. We have a responsibility toward our patients to lessen their burden and make an effort to teach and contribute to the general education."
Dr. Joaquin Mateo, an oncologist and research leader at Vall d'Hebron Institute of Oncology in Barcelona, also emphasized the patient experience: "One of the problems is that the infrastructure for precision medicine has been set up from hospitals based on the particularities of the hospital, not the particularities of the patient. They may have to travel, for example, or sometimes their data will need to be accessible from afar to be assessed by other professionals. We need to prepare easy pathways for patients who may need to receive testing, counseling, and treatment in different places." He stressed the need to put the patient at the center and organize the rest of the infrastructure around them.
"Melanoma is obviously close to my heart," said Ryll, whose husband was diagnosed with it in 2011 and died a year later. "At the time we had a survival of 5% for five years, now we are at 50%. It sounds great, but it means we still lose one out of two patients. For us, precision medicine is one of those fields that offers a lot of hope."