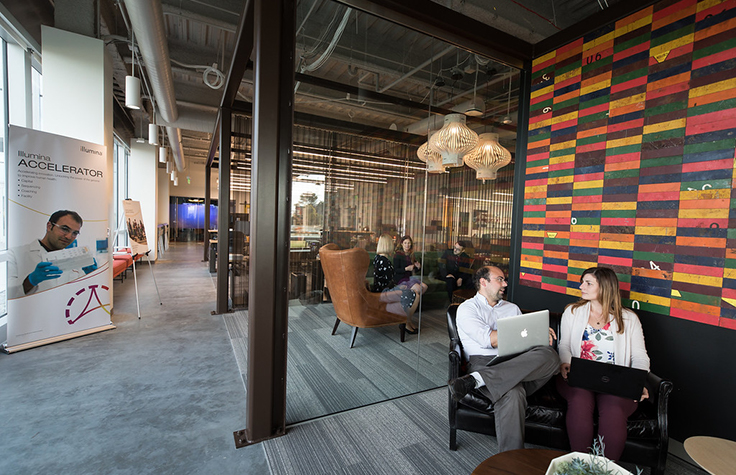 October 17, 2018
Illumina Accelerator welcomes five new startups to its eighth investment cycle. The genomics-based company creation engine focuses on building early-stage genomics companies and helps startups validate and create next-generation sequencing applications and bring those products to market. During the six-month cycle, Illumina Accelerator offers the selected companies access to capital, genomics and sequencing expertise, business coaching, as well as lab and office space at Illumina's Bay Area campus.
The eighth funding cycle includes:
Algen Biotechnologies, Inc., a therapeutic discovery company, is building an intelligent platform to decode functional gene networks for drug discovery.
Astarte Medical Partners, Inc., a personalized medicine company, is developing proprietary software for the care of preterm infants by providing quantitative data about gut health, allowing for personalized care and nutrition to optimize growth and outcomes.
Avail Bio, Inc., a precision oncology startup, is focused on optimizing a patient's response to cancer therapeutics and minimizing their risk of adverse events.
Cognitive Genetics Inc., a molecular diagnostics company, is developing a non-invasive test for pre-symptomatic risk assessment of common reading and learning disabilities, including dyslexia, speech-sound disorder and specific language impairment.
VastBiome, a drug discovery company, is building a proprietary technology platform that mines the gut microbiome for small molecule therapeutics for immuno-oncology and autoimmune diseases.
"At Illumina Accelerator, we're focused on providing our entrepreneurs with important resources that will set them up for success," said Mostafa Ronaghi, Ph.D., Illumina's Senior Vice President and Chief Technology Officer and co-founder of Illumina Accelerator. "Selected companies receive professional advice that can help guide business strategies and scientific expertise which allows them to innovate in their respective fields."
During the six-month funding cycle, each startup will gain access to seed investment, Illumina sequencing systems and reagents, as well as business guidance and fully operational lab space in the San Francisco Bay Area.
"We're proud to announce our eighth cycle of impressive companies that are demonstrating the powerful impact genomics has on human health," said Amanda Cashin, Ph.D., co-founder and Head of Illumina Accelerator. "These five promising startups join our growing network of genomic entrepreneurs that are making an important impact globally."
Illumina Accelerator is now accepting applications for its ninth funding cycle that are due by November 1, 2018. For more information, or to apply, visit the Illumina Accelerator page.