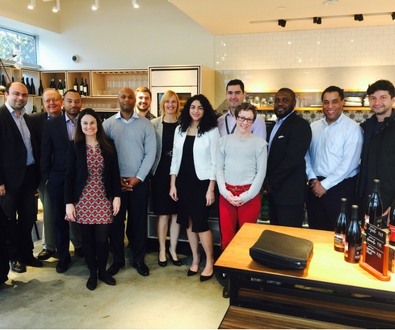 April 26, 2018
Illumina Accelerator, the genomics-based company creation engine focused on building early stage genomics companies, welcomes five new startups to its seventh funding cycle. Since its inception in 2014, Illumina Accelerator has helped startups validate and create, next-generation sequencing applications and bring those products to market. During the six-month funding cycle, Illumina Accelerator offers the selected companies capital and access to capital, genomics and sequencing expertise, business coaching, as well as lab and office space at Illumina's Bay Area campus.
The seventh funding cycle includes:
DermBiont, Inc., a drug discovery and development company, is advancing a pipeline of skin microbial therapeutics, with its first candidate in development for fungal infections of the skin.
MedAnswers, Inc., a digital health company, is using big data and genetics to match those struggling to conceive to a curated network of fertility experts and solutions to help users achieve healthier fertility outcomes, faster.
Mediphage Bioceuticals, Inc., a genetic medicine startup from the University of Waterloo, Ontario, Canada, is developing phage-based therapeutic platforms to discover safe and accessible cures for chronic diseases.
TruGenomix Health, Inc., a precision genomics company, is focused on advancing the treatment of post-traumatic stress disorder, offering risk stratification and targeted, individualized treatment options.
Unite Genomics, Inc., a medical data science spinout from the University of California, Berkeley's RISELab, performs, enables and leverages machine learning and large-scale genomic analyses for the biopharmaceutical and clinical research industries.
"At Illumina Accelerator, we provide entrepreneurs focused on breakthrough genomic sequencing applications key resources for success," said Mostafa Ronaghi, Ph.D., Illumina's Senior Vice President and Chief Technology Officer and co-founder of Illumina Accelerator. "The selected companies receive advice and expertise to help guide strategies in business and financing, team building and more. Together, with our accomplished group of graduates, our newest investments are working to advance breakthrough applications in genomics, including therapeutics, diagnostics and direct-to-consumer applications."
For the seventh cycle, Illumina Accelerator is partnering with Helix. Helix is providing MedAnswers with additional mentorship and support to develop a consumer application for Helix's online marketplace.
"Through our collaboration with Illumina Accelerator, we hope to provide innovative startups, like MedAnswers, access to Helix's team of experts in bioinformatics, applied genomics, product development and consumer marketing, to help transform their ideas into compelling consumer applications and services that make genomics relevant and accessible to all," said Justin Kao, co-founder and Senior Vice President of Helix.
Illumina Accelerator provides the selected startups access to seed investment from accredited investors through a convertible note. Additionally, through the $40 million Illumina Accelerator Boost Capital, startups have access to dollar-for-dollar match funding when they raise between $1 million and $5 million of qualifying capital. While at Illumina Accelerator, startups have access to fully equipped lab and office space, so they can begin experiments on day one, using Illumina's sequencing systems and reagents.
"With every cycle, we continue to see an increase in the quality of applicants seeking to join the Illumina Accelerator portfolio," said Amanda Cashin, Ph.D., co-founder and Head of Illumina Accelerator. "We are delighted to add five more promising startups to our growing network of genomic entrepreneurs, and to continue demonstrating the impact genomics can make in a variety of applications."
Illumina Accelerator is now accepting applications for its eighth funding cycle that are due by May 1, 2018. For more information, or to apply, click here.