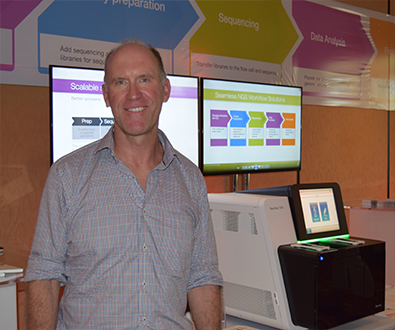 October 29, 2015
Long before the days of sequencing, Illumina got its start with the microarray business and it still remains an important part of the company's portfolio. Microarrays are ideal to cost-effectively process large numbers of samples for a range of applications ranging from population specific genotyping studies to monitoring changes in gene expression and methylation. Kevin Meldrum discusses the newest microarray kits and the important role customers play in the evolution of the portfolio.
With sequencing such a major focus in the genomics industry, why does Illumina continue to expand its array portfolio?
In the genomics space, technology is constantly evolving. Many researchers have moved from using arrays to sequencing for discovery-based studies while others still rely on arrays as a mainstream tool for their research. The preferred technology choice really depends on their scientific goals, experimental scope and budget. We actually see a great deal of complementarity between the technologies. Illumina got its start with the array business, and we're the only company that has a complete genomics portfolio including both arrays and sequencing. Our goal is to help our customers navigate between the two technologies so they can make an informed choice that's best fit for their particular project(s).
What are the new arrays that were announced this week and why are they important?
Array technology is already well established and a large part of our business, but we're still dedicated to improving and expanding our portfolio. We're excited to announce four new arrays that will give scientists a more comprehensive view into genetic variation with faster turnaround times, high-quality data and complete, streamlined workflow solutions.
The Infinium® DrugDev Consortium Array was developed in collaboration with leaders in translational genomics and computational biology and enables researchers to more effectively screen potential drug targets earlier in the development process.
The Infinium® MethylationEPIC BeadChip offers expanded content beyond our industry leading 450k array for methylation screening applications. The product is compatible with formalin-fixed, paraffin-embedded (FFPE) samples all in a straightforward, streamlined workflow.
The Infinium® ImmunoArray-24 v2.0 BeadChip is the next generation genotyping array for detecting genetic variation in the human immune system. This array is a flexible, targeted, cost-effective genotyping solution to identify and validate novel and causal variants associated with major autoimmune and inflammatory disorders.
Finally, the Infinium® Multi Ethnic Array Family provides a high throughput method for large-scale population research across diverse ethnic populations. It delivers excellent genomic coverage and high value content at an affordable price, providing customers with the power to effectively to carry out studies across the world's populations.
How does Illumina identify the needs of its customers and utilize them as "information assets"?
Innovation comes in many forms. We typically focus on development of the core array technology and collaborate with our customers to define array content. We also proactively engage through early access programs so they provide feedback on product performance and give us additional insights about how our products can be improved. This customer feedback is crucial and helps us proactively manage the transition from one array version to the next.