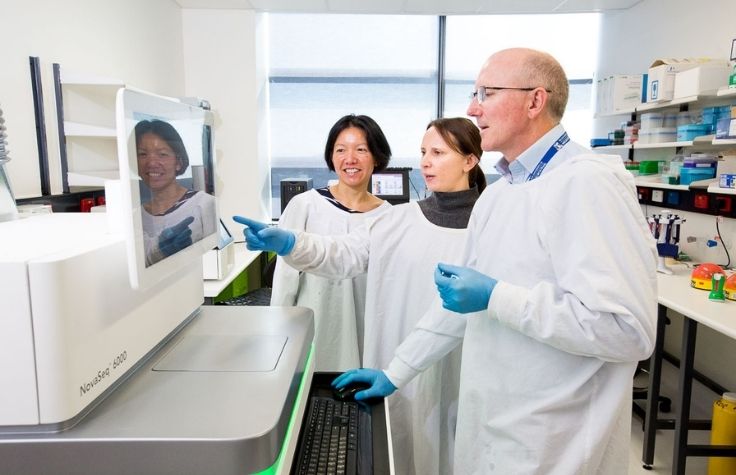 December 3, 2020
The Victorian Government collaborated with the University of Melbourne and Illumina to secure a $60 million investment for a world-leading genomics hub in Victoria called the Illumina–University of Melbourne Genomics Hub. This collaboration puts Victoria, the University of Melbourne's researchers, students, and precinct partners at the forefront of the global genomics revolution.
The Illumina Genomics Hub will give Victoria the opportunity to spearhead Australian genomics innovation at a global level.
The Illumina Genomics Hub is the first of its kind. It combines Illumina's industry expertise with the support of the University of Melbourne's research and student body. The goal of the hub is to provide improved public health outcomes through research and diagnostics, in areas like infectious diseases (including the coronavirus), as well as accelerate biomedical research translation into routine clinical care, using highly targeted and personalized approaches.
"This Australian-first genomics hub will future-proof our position as a national leader in genomic research—harnessing our highly-skilled talent, a culture of innovation, and our world class universities," said Tim Pallas, Minister for Economic Development in the Victorian government.
"We are honored to receive the support and investment from the Victorian Government for the Illumina Genomics Hub," said Gretchen Weightman, Vice President and General Manager of Asia Pacific & Japan at Illumina. "This establishment will accelerate the translation and commercialization of biomedical research in the Precinct and give Victoria the opportunity to spearhead Australian genomics innovation at a global level."
The hub will elevate local genomics research and clinical trials to a global scale by establishing three core platforms in clinical genomics, bioinformatics, and health economics.
The Illumina Genomics Hub is another example of Australia's recent investment in genomic research and applications. Earlier this year Illumina announced a collaboration with the Communicable Disease Genomics Network (CDGN) to track COVID-19 in Australia using Next Generation Sequencing (NGS), which enables real-time data sharing and integration to better understand the transmission and spread of the virus.
Across the globe, Illumina NGS technology has been on the frontlines of the pandemic, used for high-volume sequencing that holds the potential to revolutionize public health contact tracing and pandemic control for COVID-19 and future pathogens.
To learn more about how Illumina is driving a global ecosystem of genomics innovation, please click here.