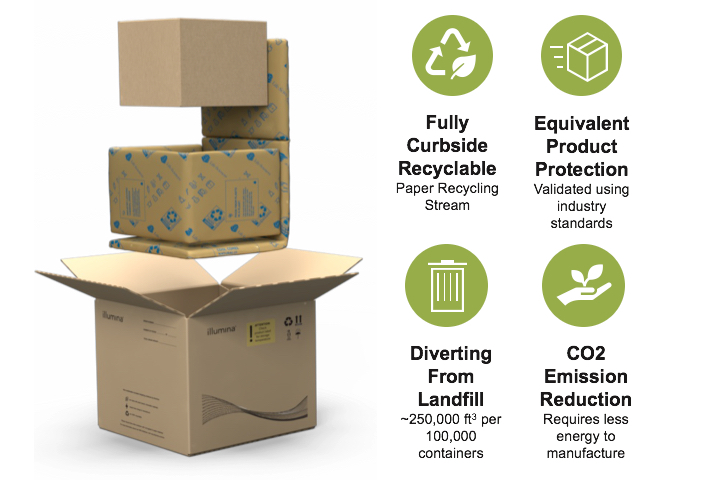 June 24, 2020
Illumina's new tertiary packaging will divert almost 250,000 cubic feet of foam packaging from landfills and avoid the carbon emission equivalent of taking more than 100 cars off the road for a full year. Illumina is introducing the implementation of a curbside-recyclable alternative to expanded polystyrene (EPS) currently used to ship our temperature sensitive reagents. Starting with our research use only (RUO) products in the United States, the new, environmentally friendly packaging is entirely recyclable and will be phased into a global roll out for cold chain RUO products.
EPS foam insulated containers have historically been the standard for cold shipping, given its light, durable and well-known insulating properties. Illumina shipped more than 300,000 containers globally, of which more than 180,000 were just in the Americas last year. Our customers have found creative ways to re-use the coolers, but in general EPS is difficult to recycle and often makes its way to landfills.
"As part of our corporate social responsibility commitments, Illumina is targeting a 75% reduction in packaging by 2030," said Jacquie Ross, Vice President of Communications, Investor Relations and Corporate Social Responsibility at Illumina. "As an important step on this journey, this new packaging improves our customer experience and reduces the environmental impact of our products, highlighting how we are incorporating design for the environment into our product development roadmaps."
Illumina's new shipping box was developed by TemperPack, a U.S. company focused on providing sustainable solutions for cold chain shipping. The new packaging uses the TemperPack® ClimaCell® insert, which is a plant based paper product that can maintain the required temperature conditions for the duration of a product's delivery time. To safeguard our shipments, Illumina engineers tested all of our packaging solutions through a series of robust shipping assessments. Testing included simulated distribution with impact, vibration, altitude and extreme temperature, to ensure quality control and product performance is not compromised.
For more information on our CSR efforts, visit www.illumina.com/csr