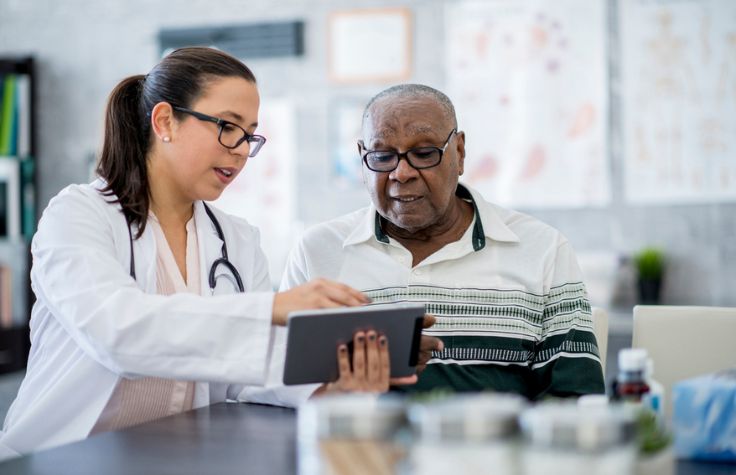 September 1, 2023
Prostate cancer is the second most common cancer in men in the US after skin cancer. In fact, the American Cancer Society estimates there will be about 288,300 new cases in the country this year.
September is National Prostate Cancer Awareness Month, and as various organizations ramp up their related fundraising and education efforts, the medical community is welcoming promising new combination therapies. Over the last four months, the Food and Drug Administration has approved three prostate cancer treatments involving poly adenosine diphosphate-ribose polymerase inhibitors, also known as PARPi, used in combination with androgen receptor inhibitors. These combination therapies are for metastatic castration-resistant prostate cancer (mCRPC) patients whose tumors harbor alterations in various homologous recombination repair (HRR) genes. The latest approvals are intended to be used in combination for specific HRR gene alterations:

David James VanderWeele, MD, PhD, a medical oncologist specializing in genitourinary cancers, says that between the PARPi approvals and immunotherapy options (for patients with high tumor mutational burden or high microsatellite instability biomarkers), 15%–25% of patients with mCRPC could stand to benefit: "It is very important to identify these biomarkers and thus offer these therapy options to patients, which can provide many additional months of disease control, or occasionally even longer-term responses."
In order to be matched with a PARPi or any targeted therapy, a patient must have molecular testing performed to identify genomic alterations or biomarkers. Molecular testing may consist of single-gene tests or small gene panels, or larger panels that include hundreds of genes and relevant biomarkers, often referred to as comprehensive genomic profiling, or CGP. VanderWeele, an associate professor of hematology and oncology at Northwestern University Feinberg School of Medicine, underscores the importance of CGP for all patients.
"So far, our targeted therapies have approvals only for patients who have developed castration resistance, and so I think there is a tendency to put off doing molecular testing until a patient's cancer develops castration resistance. But by that time, the tissue quality may have degraded and the tumor burden may be too low for liquid biopsy to be accurate," he says, and adds that other gene alterations such as PTEN, RB1, TP53, and SPOP—while not biomarkers for specific therapies—can still inform the way we think about the cancer's biology or prognosis. "So it makes sense to do the testing in all patients who are metastatic or who are unlikely to be cured. We should move toward thinking of prostate cancer like lung and colon cancer, where there is reflex molecular testing that happens at the time of diagnosis."
References
1. Clarke NW, Armstrong AJ, Thiery-Vuillemin A, et al. Abiraterone and Olaparib for Metastatic Castration-Resistant Prostate Cancer. NEJM Evid. 2022;1(9). doi: 10.1056/EVIDoa2200043
2. Agarwal N, Azad AA, Carles J, et al. Talazoparib plus enzalutamide in men with first-line metastatic castration-resistant prostate cancer (TALAPRO-2): a randomised, placebo-controlled, phase 3 trial. Lancet. 2023 Jul 22;402(10398):291-303. doi: 10.1016/S0140-6736(23)01055-3
3. Chi KN, Rathkopf D, Smith MR, et al. Niraparib and Abiraterone Acetate for Metastatic Castration-Resistant Prostate Cancer. J Clin Oncol. 2023 Jun 20;41(18):3339-3351. doi: 10.1200/JCO.22.01649