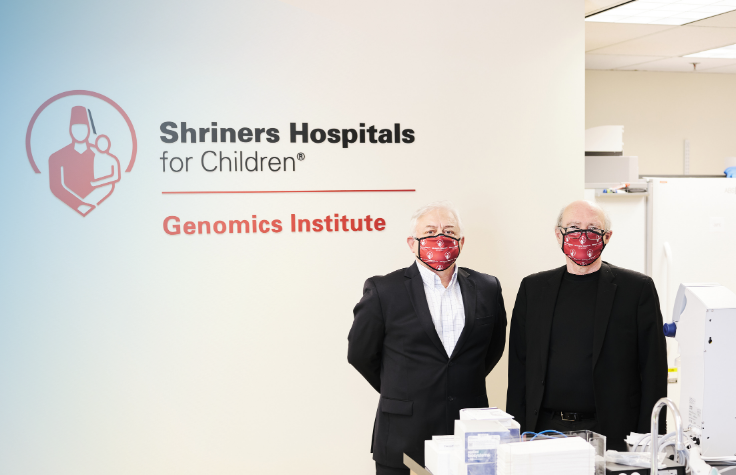 February 23, 2021
Using TruSight Software Suite, the U.S.-based iconic health care system will advance research and personalized medicine from Mexico City to Montreal and beyond
When VP of Research Marc Lalande, PhD walked in the door of Shriners Hospitals for Children® in 2017, he announced they were going to start a genomics institute that would offer genetic sequencing system wide. He also asserted they would need a first-rate scientist to lead it. That individual was Kamran Shazand, PhD.
"Marc is the architect of everything," says Dr. Shazand. "He's the brain, I'm the arms." Or, as Marc puts it, "I'm the cheerleader and Kam does all the work!" Shazand is the Director of the Shriners Hospitals' Genomics Institute and is responsible for the daily data analysis of billions upon billions of genes. Together the "brain" and "arms" are two genomic luminaries, embarking on a journey that has the potential to touch the lives of the more than 100,000 children Shriners Hospitals sees every year from around the world.
A century for the children
Shriners International is a Masonic fraternity founded in 1872. In 1922, after a series of polio epidemics in the US, the fraternity established the first Shriners Hospital for Children (SHC) in Shreveport, Louisiana. With 30 beds for girls and 30 for boys, the hospital's mission was to treat and rehabilitate children with pediatric orthopedic conditions, and no patient would be turned away because of an inability to pay. Within a decade, Shriners added several more hospitals around the US. Today, SHC has locations across the continent, including Canada and Mexico. Since opening the first hospital, this unique health care system has served more than 1.4 million children.
In October 2017, Dr. Marc Lalande arrived at the organization's headquarters in Tampa, Florida, and two years later, SHC opened the Genomics Institute. Lalande and his team believe that whole-genome sequencing (WGS), in addition to being able to diagnose rare diseases, can tell us critical information about the cause of many disorders SHC treats, such as neuromusculoskeletal conditions. WGS has the power to inform doctors on how to optimize treatment for individuals, and ultimately improve the quality of life for the children as well as their families.
It's an auspicious time for SHC, as the nonprofit is preparing to celebrate its centennial in 2022. With the application of genomics, the health care system is building the tools for an entirely new level of care that will launch them into the next 100 years.
We see whole-genome sequencing moving us toward improving the quality of life for our kids.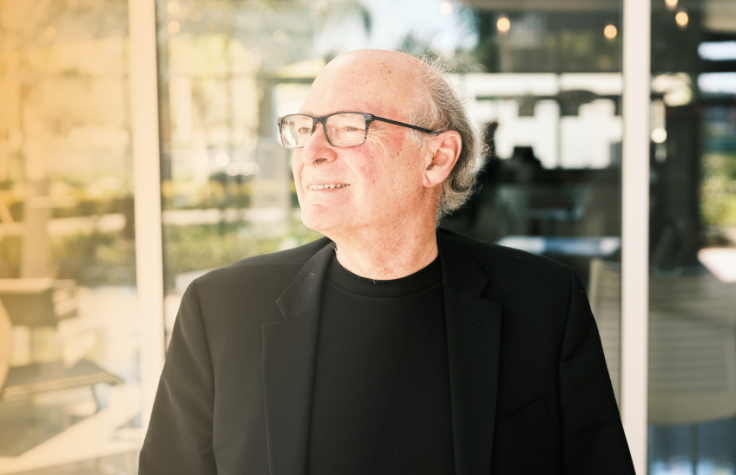 All roads lead to the genome
The Genomics Institute's ambitious goal is to sequence and analyze 5,000 samples per year. They're seeking to collect trios, which means sequencing the patient and both parents. What's unique about the project is that they're opening up WGS to all SHC patients, no matter the diagnosis or disorder. The main, large project, referred to as Shriners' Precision Medicine and Genomics (SPMG) is built to incorporate other more specific research projects.
But it's not just about volume of samples—it's also about global reach. In addition to facilities in North America, the SHC health care system also conducts dozens of global clinics where they send physicians—from Guam, American Samoa, and Cyprus to Mexico City, Panama and Guatemala. "Diversity is really important in a genetics study, especially for rare disorders, to nail down an association and make sure it's not a population-specific variant, as opposed to disease-associated variant," says Dr. Lalande. Because the current pandemic has limited travel, the hospital is enhancing its telehealth capabilities, which actually makes it easier to reach both parents, who can each mail in a saliva sample.
Every human genome sequenced has more than 3 billion nucleotides, of which roughly 5 million variations are unique to each individual. A slight modification of one or two of these variations can mean the difference between being healthy and having a serious genetic disease. Finding these critical few variants is currently the most challenging technical obstacle for genetic testing. Dr. Shazand and his team are using Illumina's TruSight Software Suite and DNA PCR-Free Tagmentation Prep on the NovaSeq™ 6000 to analyze and interpret whole genomes in a matter of hours, not weeks.
Dr. Lalande loves that SHC can take a quantitative approach to treatment while also providing top-notch specialty care. "These kids spend a lot of time at Shriners Hospitals, where they work to overcome tremendous physical challenges, including complex spinal and orthopedic conditions. They get to know their entire care team—it's like a family. But we're bringing the quantitative stuff. We're going in and sequencing every nucleotide of your DNA. It's really quite remarkable."
A dynamic duo
Both Lalande and Shazand began working in genetics in the 1980s, well before the Human Genome Project debuted on the public stage. Dr. Lalande, a native of Canada, earned his PhD in medical biophysics at the University of Toronto, where he and other graduate students built their own fluorescence-activated cell sorter, and used the instrument to study immune cells. Thanks to that work on the sorter, he landed in a genetics lab at Boston Children's Hospital, where they began sorting individual human chromosomes, making libraries, and getting some of the first probes for diseases.
After nearly 15 years at Boston Children's, he moved to the University of Connecticut, where he was a founding chair of the Department of Genetics and Genome Sciences, as well as the director of the UConn Stem Cell and Systems Genomics institutes. Dr. Lalande and his team were recognized for being the first to generate human induced pluripotent stem cells (iPSCs) for Angelman and Prader-Willi syndromes, and discovered an epi-genetic mechanism where they could activate genes that were missing. After 19 years at UConn Health and the UConn School of Medicine, Dr. Lalande felt the pull of Shriners Hospitals and its mission to help children.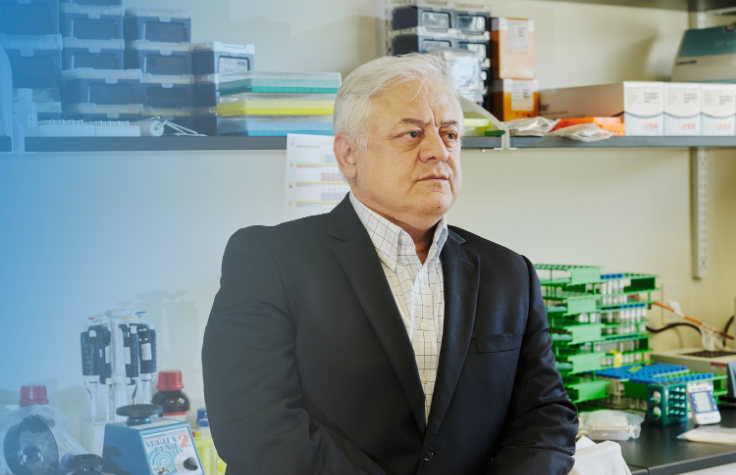 Within a year of coming to SHC, Dr. Lalande received approval from the Joint Boards of Directors and Trustees to start a genomics initiative. He then learned that Dr. Kamran Shazand had an interest in coming to Tampa to bring his deep experience and wide range of expertise to the launch of the Genomics Institute.
A native of Iran, Dr. Shazand had started out in medical school in Paris, but after two years switched to molecular biology, eventually earning his PhD. After two postdoctoral training fellowships, he moved to Canada where he worked mostly for biotech firms—mainly in biomedical, always focusing on disorders.
"I'm the son of an MD. We always had this culture of looking at disorders and wondering why things happen to people." In 2006, he joined the Ontario Institute for Cancer Research and helped build the largest genome center in Canada.
Now Shazand, who is also an adjunct professor at the University of South Florida in Tampa, leads a team that performs the daily data analysis and establishes key partnerships that will benefit SPMG.
"This is the future."
One of the first areas of focus will be scoliosis, as SHC sees more than 14,000 patients with scoliosis a year—the most of any condition the health care system treats. In addition to identifying the common markers for scoliosis, they hope to discover even more markers when they break down the disorder into three sub-categories. Dr. Shazand is seeking to help explain the causes of this disorder, as well as inform prognosis: Genomic data could tell a surgeon whether to operate immediately and correct a child's spine permanently, or fix small things while the patient continues growing. For his part, Dr. Shazand appreciates that when he calls a SHC physician or surgeon, they can articulate right away how genomics could help them treat the patient. "That increases my enthusiasm even more. And that's where we're going. I can barely sleep at night."
For us, this is the future. To Illumina, this is the present.
Another area of focus is cerebral palsy. As SHC sees nearly 10,000 patients with the condition annually, the nonprofit is positioned to potentially become a world leader in cerebral palsy genetics. SHC's clinicians are already well versed in the cerebral palsy phenotype; they know how to classify it and what tests to order.
While cerebral palsy is a condition involving brain injury, Dr. Lalande is interested in knowing if certain individuals are predisposed to this very heterogeneous, complex disorder. Because of genes, one individual exposed to the same injury might have a different outcome.
Now for the first time, SHC is funding a project on the genomics of cerebral palsy that is a collaboration between surgeons and investigators from its Northern California hospital and scientists at the Jackson Laboratory for Genomic Medicine in Farmington, Connecticut. These partners are working with Dr. Shazand to break the disorder into sub-types and look for genes associated with each of these specific phenotypes. From there, they would try to understand the molecular mechanisms and move toward developing therapies.
"The advantages of whole genome, over whole exome, for disorders like this, are going to be significant," says Dr. Lalande. "For us this is the future. To Illumina, this is the present. But we're looking at it this way: 'Okay, how do we include genomic data with all the other data we generate in a giant data infrastructure, where we can help improve the quality of life?'"
Full steam ahead
"Research works on enthusiasm," says Dr. Lalande.
"Enthusiasm is contagious," adds Dr. Shazand. "Genomics is not just a vision. It can help our kids. And I will try to share the data with the world. It's for everybody."
Even with genomics making enormous advances in the world, there is still work to be done in educating families. Taking off his regulatory hat, Dr. Lalande would explain it this way: "The future of medicine is precision medicine and you can't do precision medicine without genetics. So, what you've inherited from your mom and dad has an impact on many aspects of your health and if we learn to understand this, we will be able to individualize care. To optimize any treatment, make it specific to an individual—that's the long-term goal for everybody, Shriners Hospitals included."
"We don't want to give false hope," cautions Dr. Shazand, "but on a personal level, I would share with the families that I feel like all these kids are my own and I really work in that direction, as seriously as if they were my own kids."
To learn more about Shriners Hospitals for Children and the Genomics Institute or to donate, click here.
To read about the value of genomics for a rare disease diagnosis, click here.
To discover the benefits of whole genome sequencing for rare disease, click here.
To learn more about Illumina's sample-to-report whole genome sequencing workflow, click here.