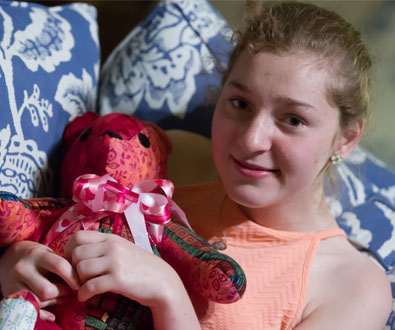 February 29, 2016
February 29 only comes around every four years, but every year at the end of February, the rare disease community celebrates Rare Disease Day, a global effort to raise awareness of the prevalence of these diseases and the challenges associated with diagnosing them and developing effective treatments. At least 350 million people worldwide suffer from rare diseases, defined in the United States as those affecting fewer than 200,000 Americans at any given time. It is estimated that 80 percent of these diseases are caused by faulty genes. Although rare diseases are responsible for approximately 35 percent of deaths within the first year of life, 95 percent of these diseases do not have FDA approved drug treatments. This leaves many families scrambling to find or establish research programs that could offer promise. Most of these diseases afflict children, and time is critical in the race to identify the source of the symptoms and intervene.
Catalyzed by Illumina next-generation sequencing technology, which clinical researchers can use to solve many of the most difficult medical mysteries, Southern California is emerging as an important hub for the rare disease community.
"Many patients and families with rare diseases face heart wrenching diagnostic odysseys that can last years. Almost all these disorders are genetic in origin, and it's now clear that genome sequencing can provide answers quickly. The declining cost of sequencing has created a watershed moment for these patients," said Ryan Taft, PhD, Director of Scientific Research at Illumina. "Here in Southern California, we have an incredibly strong community of thought leaders, philanthropists, advocates, and patients collectively working to improve all aspects of these patients' lives – from diagnostics and novel therapies to family support."
Thought Leaders
Two of the biggest thought leaders in implementing genomics into the practice of medicine have come to San Diego to make this vision a reality.
Eric Topol, MD, came to San Diego in 2006 to lead the newly formed Scripps Translational Science Institute, serve as Chief Academic Officer for Scripps Health, and be a Professor of Genomics at The Scripps Research Institute. A world renowned cardiologist, and the former head of cardiology for the Cleveland Clinic, he was an unlikely catalyst for rare disease. But his interest in genomics, stemming from his days as an undergraduate at the University of Virginia, and his work in the genetics of cardiovascular disease made him an evangelist for the idea that genomics could transform health care.
He founded the Future of Genomic Medicine Conference in 2007, bringing together clinicians, patients, scientists, and journalists to examine the impact of genomic knowledge. Coupled with the declining cost of next-generation sequencing, the conference content energized researchers and scientists looking for a path to scientific breakthroughs with clinical impact.
Topol also leads the Idiopathic Disease of Man (IDIOM) Study, which uses whole-genome sequencing to determine the causes of serious, rare and perplexing health conditions that defy a diagnosis or are unresponsive to standard treatments.
"We are quickly evolving with tools, such as genome sequencing, to the point of not stopping at saying 'we don't know' for the cause of a serious, undiagnosed condition or an unexplained, catastrophic sudden death in a family," said Topol. "We are in the era of being able to get the answers – the root causes – and, in many cases, to take unprecedented, important action to prevent or better treat these conditions."
By the time Stephen F. Kingsmore, MD, DSc, was named President and CEO of the Rady Children's Institute for Genomic Medicine, he'd already made a name for himself in the pediatric genomics space. Using the Illumina HiSeq 2500 System, Kingsmore developed and implemented a 50-hour protocol for sequencing and interpreting the genomes of newborn babies with suspected genetic conditions. Time hailed his work as one of the top 10 medical breakthroughs of 2012.
"Rare is common at Rady Children's Hospital," said Kingsmore. "When combined, the 8,000 named rare genetic diseases are a very large component of the healthcare we provide. Identifying which of the 8,000 diseases a child has is a huge bottleneck and the first that we plan to eradicate at Rady Children's Institute for Genomic Medicine."
Philanthropy
Philanthropy has played an important role in catalyzing the growth of the rare disease research community. The Rady Children's Institute for Genomic Medicine was launched in 2014 with a $120 million gift from the Rady family and a $40 million investment from the Rady Children's Hospital. Sanford Burnham Prebys Medical Discovery Institute (SBP) received a series of large philanthropic donations, including more than $100 million from Conrad Prebys over the last several years. The institute has used some of those resources to build out its genomics capabilities and deepen partnerships with the clinical and pharmaceutical communities to advance translational research across disciplines.
SBP has hosted a Rare Disease Day Symposium for the past seven years. It brings patients and their families face to face with scientists and doctors, in the hopes that the collaborations will help solve genetic mysteries. The several day event, held February 26-27 2016, was developed around the concept that treatment of these diseases requires participation and exchange of information among all stakeholders, including granting agencies and philanthropists who help fund the research needed to develop cures or effective treatments.
"We have been able to 'research diagnose' nearly 200 cases of congenital disorders of glycosylation (CDG) and aid in the discovery of 18 new genetic disorders," says Hudson Freeze, PhD, organizer of the 7th annual Rare Disease Day symposium at SBP. "These families want answers. We are so pleased to be able to bring them together and give them the opportunity to meet with researchers and clinicians. There is strength in numbers, even if their child is only one of a few cases in the world."
Patient Advocacy
Southern California is also quickly becoming a focal point for rare disease patient advocacy.
Global Genes is playing an essential role in raising awareness of these diseases and the families impacted by them, and is helping to build networks among institutions aimed at increasing synergy and accelerating research.
Their Rare Patient Advocacy Summit, now in its fifth year, attracts over 1,400 patients and leading experts in the field with representation from over 120 different diseases and from many countries around the world. The interactive summit enables participation in person and via livestream. Meanwhile, year-round meetups, webinars, and casework services link families challenged by these diseases with connections and resources.
"Although there have been many advances in technology to help diagnose and treat patients, we can't forget that there are still hundreds of thousands of patients needing answers, needing therapies, and needing support," said Nicole Boice, CEO of Global Genes. "It's critical that we continue to raise awareness of rare diseases, advocate for additional resources, and bring the community together to learn from one another."
Rare Science, Inc. is a non-profit organization that focuses on accelerating the identification of therapeutic solutions for kids with rare diseases through working with patient families to foster synergies between patient groups, clinicians, and researchers. They organize the health-related information of the patient family groups, aggregating data that are currently scattered across many different institutions and geographies, and making it accessible by the patient families, researchers, and clinicians through a cloud-based computational platform. The organization aims to build foundational understanding of the biology of disease with a goal of identifying currently approved treatments that could offer immediate benefit.
"We aim to close the gap of time from discovery to clinical treatment in order to improve diagnosis and treatment that families so urgently need," says founder and CEO Christina Waters. "Kids can't wait for 14 years for a new drug to be developed; they need help now."
Both organizations have developed symbols to represent their work and help spread awareness of the prevalence and impact of rare diseases. Global Genes has built awareness around a denim ribbon. Playing off the homonyms genes and jeans, the ribbons are meant to create a unified voice for the multitude of rare diseases that have not, in the past, had a collective voice. One of Rare Science's programs is the RARE Bear program in which a community of volunteers around the world (7 countries including 31 US states participate) use remnant fabric to create one-of-a-kind teddy bears.
"The bears are meant to represent the uniqueness of each child and to bring them joy and comfort," added Waters. "We match the bear with the children's favorite colors and hobbies."
Lilly Grossman was the first RARE Bear recipient. Through her participation in the IDIOM study, she received a genetic diagnosis that identified two gene mutations that are likely the cause of her disease symptoms: DOCK3 (believed to be responsible for muscle weakness) and ADCY5 (believed to be responsible for seizure-like tremors at night). She was able to begin a treatment regimen that has addressed the seizure-like tremors but is still looking for a treatment to address her muscle weakness.
Now a freshman at Whittier College, Lilly explained the importance of the rare disease community and developments made possible through DNA sequencing to patients like her.
"Knowing about my genome has given me a sense of hope," wrote Grossman. "I know that I can expect to have a normal life expectancy, finish college, get a job, etc. I want everyone to get sequenced because the more data available for research, the more likely it will be used to find possible treatments for rare diseases like mine. I don't want anyone else to go through what I've gone through."