Many complex disorders are difficult to study because the tissue is inaccessible. As demonstrated by emerging liquid biopsy methods, nucleic acids in the bloodstream can serve as biomarkers to monitor human health.1 Circulating cell-free DNA (cfDNA) analysis is currently used for noninvasive prenatal testing (NIPT) and cancer screening and diagnosis.2-4 cfDNA sequencing works well for detecting these genetic disorders because DNA from a fetus or from a tumor is different from the patient's DNA. However, DNA sequences from normal tissues throughout the body are virtually identical and do not change with cell states or behaviors caused by many health complications.
Advantages of cfRNA for noninvasive health monitoring
Circulating cell-free RNA (cfRNA; also called C-RNA) is a promising alternative for noninvasive assessment of health. Unlike DNA, a cell's RNA transcriptome is dynamic and tissue specific. cfRNA is released by various tissues into circulation via the cellular processes of apoptosis, microvesicle shedding, and exosome signaling. cfRNA is also stable, contained within vesicles that protect it from degradation by nucleases. Because of its diverse origins, cfRNA measurements reflect tissue-specific changes in gene expression, intercellular signaling, and the degree of cell death occurring within different tissues throughout the body (Figure 1).5-9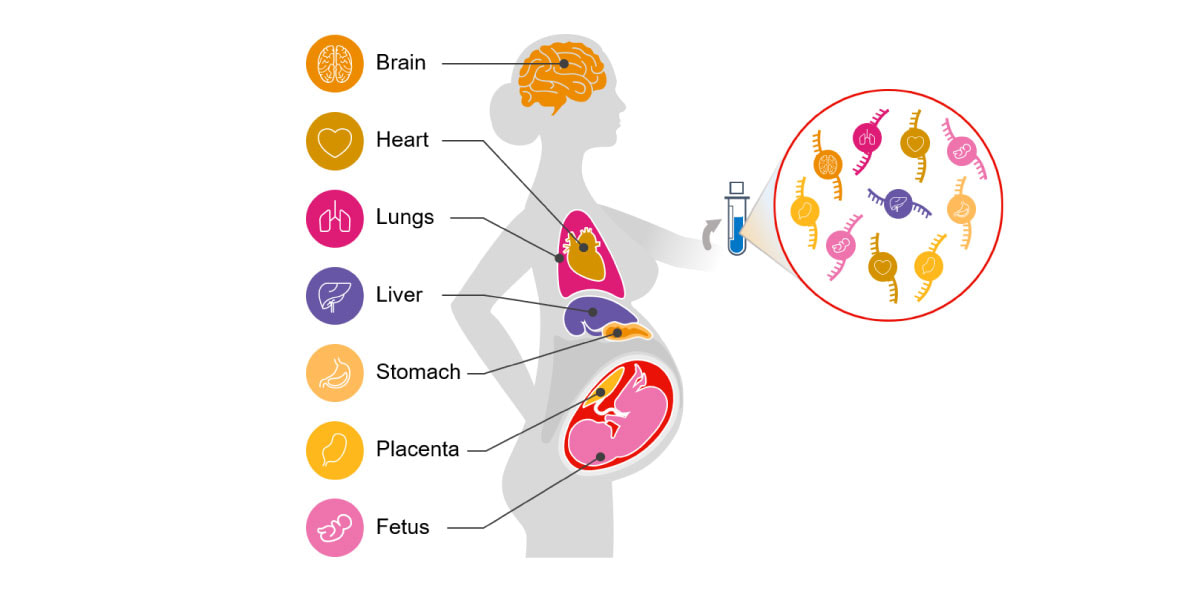 Optimized protocol for cfRNA library preparation and sequencing
While cfRNA has high informative potential, it does have practical challenges. Each milliliter of plasma yields only a few nanograms of cfRNA, which is a mixture of full-length RNA and fragmented RNA. The most abundant transcripts present in human blood are ribosomal RNA (rRNA) and globulin RNA, which can overpower the signal of more informative transcripts. To address these issues, our research team at Illumina developed a workflow that was amenable to the low yield and partially fragmented nature of cfRNA. Rather than use standard depletion methods to remove rRNA, we generated a library from all cfRNA and carried out probe-assisted enrichment targeting the whole human exome.
The optimized workflow for cfRNA sequencing maximizes exonic cfRNA signal, minimizes risk failure for low-input samples, and is compatible with overnight shipment of blood samples at room temperature. The original protocol used ligation-based library preparation to generate high-quality whole-transcriptome cfRNA sequencing data.1 Further development efforts showed that tagmentation-based RNA library prep kits enable even greater sensitivity and throughput for the next wave of research (Figure 2, Figure 3).10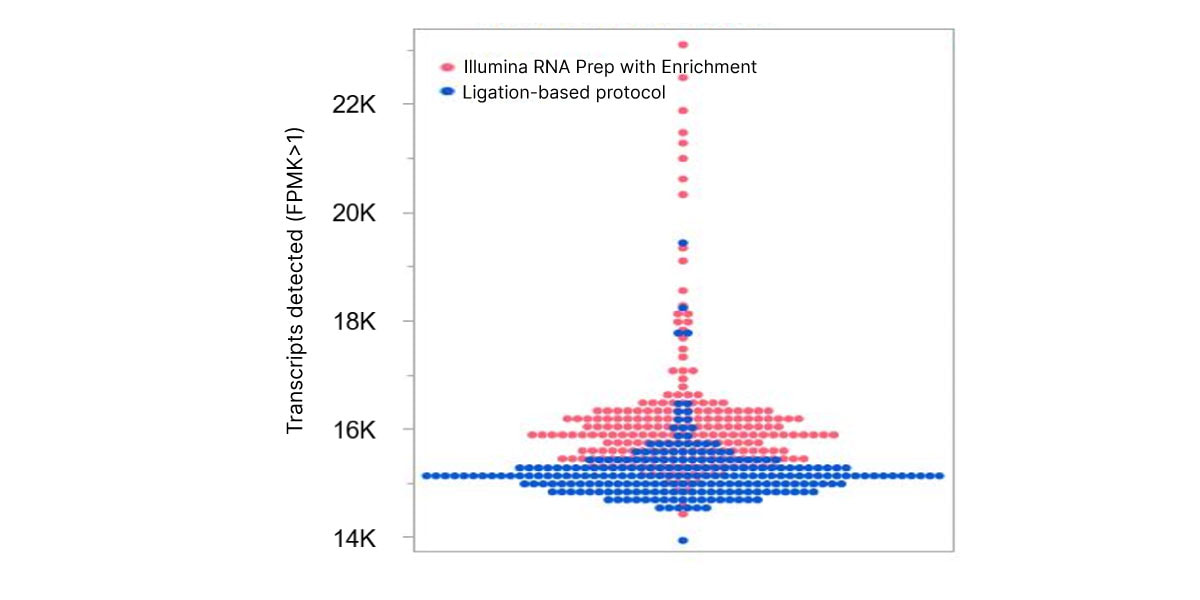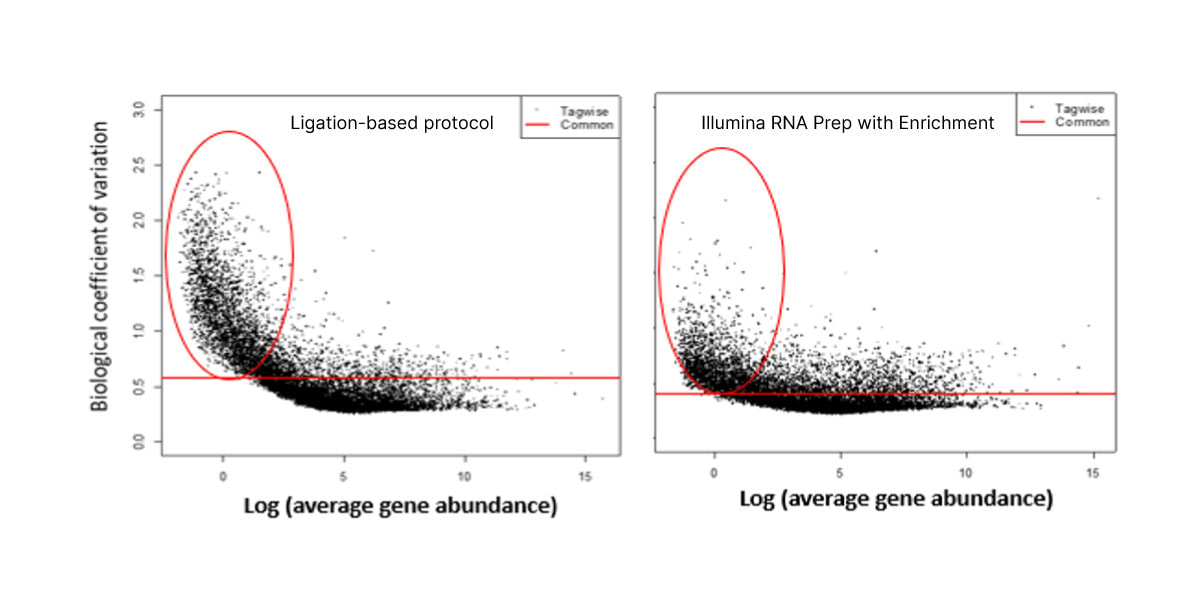 Proof-of-concept study to identify cfRNA signatures in early-onset preeclampsia
Our recent Science Translational Medicine publication described how we established and applied this workflow in a proof-of-concept study to identify cfRNA alterations associated with the dangerous pregnancy complication preeclampsia.1 The team collected 113 blood samples, including 40 from women with severe, early-onset preeclampsia and 73 from women with healthy pregnancies.
Aided by machine learning, adapted to clarify trends in sometimes noisy data, we discovered a cfRNA signature that captures the dysfunction of diverse body systems and accurately classifies preeclampsia status across independent cohorts. We identified 30 transcripts in circulation that were differentially abundant compared with noncomplicated pregnancies. These transcripts had gene ontology annotations and tissue expression patterns consistent with the placental dysfunction, impaired fetal development, and maternal immune and cardiovascular dysregulation characteristic of preeclampsia. (Table 1).
Highlights of identified circulating transcripts associated with preeclampsia
The cfRNA changes we observed in preeclampsia patients matched the biology of the disease and corroborated the validity of this approach. Of the 30 identified gene transcripts, over half were previously associated with preeclampsia (Table 1).11-29 The altered cfRNA transcripts captured information from multiple different organ systems, representing contributions from maternal, placental, and fetal tissues. For instance, we identified dysfunction in the placenta, as well as altered blood pressure regulation in the mother.
The following gene categories highlight specific examples of the impaired biological processes captured by cfRNA.
IGF signaling: impaired fetal growth and development
Preeclampsia is associated with low levels of bioavailable insulin-like growth factor (IGF), which is a major regulator of fetal growth and development.30-32 IGFBP5, PAPPA2, HTRA4, and PRG2 are all relevant to the regulation of IGF signaling and were found to be increased in early-onset preeclampsia subjects.
Pregnancy duration: risk of preterm delivery
CRH, ZEB1, and PNMT, genes associated with pregnancy duration and the onset of labor,33-35 were upregulated in preeclamptic cfRNA. Preterm delivery is a common outcome of early-onset preeclampsia and nearly all affected participants in this study delivered prematurely.
Angiogenesis: compromised placental development
Ten transcripts identified in this study are important for angiogenesis regulation: APOLD1, LEP, SEMA3G, ADAMTS1, TIMP3, ADAMTS2, HTRA4, HSPA12B, SLC9A3R2, and TIMP4. Angiogenesis is a crucial component of proper placental development throughout gestation, but is impaired in preeclamptic pregnancies.36,37
Blood pressure regulation: hypertension
Hypertension is a defining symptom of preeclampsia. Multiple transcripts associated with blood pressure regulation, ALOX15B, PNMT, ARHGEF25, APOLD1, and CRH, showed elevated levels of cfRNA transcripts in this cohort.
Dendritic cell activity: impaired pregnancy immune tolerance
Immune system dendritic cell markers also exhibited anomalous expression in preeclampsia patients: CLEC4C, PLD4, TIMP3, and VSIG4. Dendritic cells play a key role in the immune system's tolerance of the placenta and fetus in pregnancy and have been implicated as a potential driving factor behind preeclampsia.38-40
Table 1. The 30 transcripts with altered cfRNA abundance in early-onset preeclampsia with severe features1
Gene symbol
Fold change in preeclampsia
Protein function

Fetal tissue expression

IGFBP5*

+3.6

IGF signaling

ALOX15B*

+5.7

Blood pressure regulation

NES*

+4.5

Fetal development

TEAD4

+3.3

Cell proliferation

PITPNM3

+3.2

Cell proliferation

CUX2

-3.3

Cell proliferation

FAM107A

+5.0

Cell proliferation and migration

PRX*

+3.8

Cell structure

AMPH

+5.0

Endocytosis

Placental tissue expression

PAPPA2*

+4.9

IGF signaling

HTRA4*

+3.9

IGF signaling; angiogenesis

LEP*

+10.7

Angiogenesis

SEMA3G

+3.5

Angiogenesis

APOLD1*

+3.4

Angiogenesis; blood pressure regulation

VSIG4*

+8.1

Dendritic cell activity

Placental/fetal tissue expression

PRG2*

+5.2

IGF signaling

CRH*

+5.7

Pregnancy duration; blood pressure regulation

ADAMTS1*

+3.5

Angiogenesis

ADAMTS2

+11.6

Angiogenesis

TIMP3*

+4.1

Angiogenesis; dendritic cell activity

Other tissue expression

PNMT

+3.8

Pregnancy duration; blood pressure regulation

ZEB1*

+2.8

Pregnancy duration; blood pressure regulation

TIMP4*

+4.3

Angiogenesis

SLC9A3R2

+3.6

Angiogenesis

HSPA12B

+3.5

Angiogenesis

ARHGEF25

+4.1

Blood pressure regulation

PLD4

-3.0

Dendritic cell activity

CLEC4C*

-3.6

Dendritic cell activity

DAAM2*

+5.6

Cell proliferation

KRT5*

-5.8

Cell structure
* Genes previously associated with preeclampsia11-29
Noninvasive biomarker discovery and diagnostics for complex disorders
Our findings illustrate how sequencing cfRNA can detect molecular signals of preeclampsia in the blood, monitoring maternal, fetal, and placental functions in real time. This study was a proof-of-concept to show the presence of a stable disease signature in the blood. Samples were collected from patients at time of diagnosis, meaning symptoms were already manifesting. However, cfRNA transcripts indicative of preeclampsia could be present prior to symptom onset and further research is needed to characterize the potential for predictive biomarker discovery. This detection model and screening for preeclampsia in the first trimester of pregnancy could potentially identify women at increased risk of developing pregnancy complications and allow for early intervention.41
This work highlights the broad potential of cfRNA as a research and biomarker discovery tool for noninvasive, comprehensive molecular monitoring of health. The optimized protocol for cfRNA sequencing enables robust detection of circulating transcripts to identify reproducible, biologically relevant changes associated with disease. More researchers are evaluating the utility of circulating RNA signatures as accessible and unique biomarkers for diagnosis and surveillance of Alzheimer's disease, cancer, and other complex diseases.42-46 Further application of this technology offers the possibility to transform our understanding, diagnosis, and treatment of many conditions.