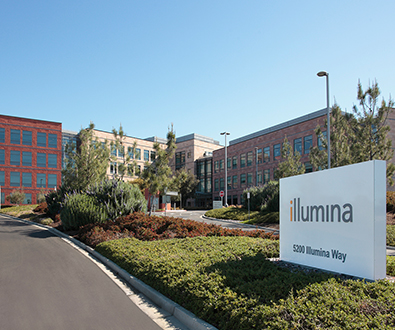 December 28, 2016
From the launch of an innovative new oncology endeavor to a change in the leadership reins, it was an eventful year at Illumina. We take a look back at some of the top media stories that made 2016 so memorable.
"A Single Blood Test For All Cancers? Illumina, Bill Gates and Jeff Bezos Launch Startup To Make It Happen" – Forbes, Jan. 10, 2016
Illumina joined forces with Sutter Hill Ventures, ARCH Ventures, Jeff Bezos' Bezos Expeditions and Bill Gates to launch a new startup called GRAIL, which aims to combine the power of high-intensity sequencing, leading-edge computer science, and large population-based clinical studies to achieve the goal of massively decreasing global cancer mortality through early detection.
"Illumina, the Google of Genetic Testing, Has Plans for World Domination" – Wired, Feb. 26, 2016
Sarah Zhang reports on how Illumina has built the hardware that makes DNA sequencing fast and affordable, its goal to expand into the clinical market, and how the company maintains its edge in the fast-moving field of genomics.
"Illumina CEO Jay Flatley Built The DNA Sequencing Market. Now He's Stepping Down" – Forbes, March 7, 2016
Matthew Herper takes a look back on Jay Flatley's 17-year career at Illumina, Flatley's law and what's next for him, as well as the company, under the leadership of Francis deSouza.
"Illumina Commits $100M to New Genomics-Focused VC Shop" – FierceBiotech, April 15, 2016
llumina commits $100 million to a venture capital fund called llumina Ventures, which will focus on early-stage companies working on new uses for nucleic acid sequencing, ways to use genomics to improve human health and products that otherwise expand the sector.
"Meet The New CEO Of The $22 Billion Genomics Company You've Never Heard Of" – Fast Company, April 27, 2016
Christina Farr introduces us to Francis deSouza, Illumina's new President and CEO and his ambitious five-year plan to bring genomics out of research labs and into the offices of physicians and healthcare providers.
"Illumina's Flatley Speaks of Genomic Future" – San Diego Union-Tribune, June 20, 2016
Illumina names its new 127,000 square foot research and development building the Jay T. Flatley Innovation Center. Flatley spoke at the event, saying that Illumina is at the forefront of a revolution of human health management.
"Francis deSouza Becomes CEO of San Diego-Based Illumina" – Times of San Diego, July 5, 2015
With a large and well-known presence in San Diego, Illumina is often in the local news. In this article, the Times of San Diego covers Francis deSouza's appointment as President and CEO.
"Illumina Would Like You to Sequence More DNA, Please" – Wired, August 15, 2016
Sarah Zhang profiles Illumina Accelerator, the world's first business accelerator focused solely on creating an innovation ecosystem for the genomics industry. The genomics incubator, which recently introduced its first international fellow, continues to help startups in the industry grow their business.
"Illumina, Secret Giant Of DNA Sequencing, Is Bringing Its Tech To The Masses" – Fast Company, Sept. 19, 2016
Christina Farr reports on Illumina's spin-off investments GRAIL and Helix, its new software-savvy CEO, Francis deSouza, and how the company plans to make DNA sequencing an even bigger part of daily life.
"Illumina Builds Africa GWAS Chip With H3Africa Initiative" – Bio-IT World, Oct. 20, 2016
Illumina announces its array for genome-wide association studies by the Human Heredity and Health in Africa (H3Africa) Initiative, a partnership between the NIH, the African Society of Human Genetics and Wellcome Trust. The array will include 2.5 million variations of specific interest to African populations.