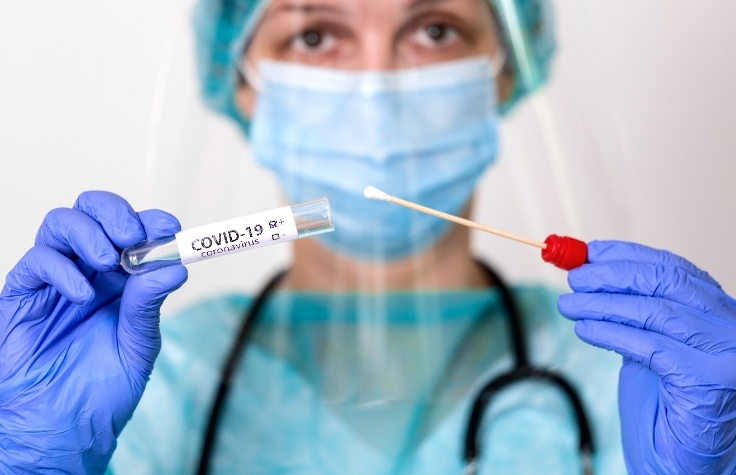 September 3, 2020
By Phil Febbo, Chief Medical Officer
If we want to bring the COVID-19 pandemic in the U.S. under control, we must make SARS-CoV-2 testing widely available. Without testing, companies, schools and public health officials are flying blind and community transmission could continue, unabated, until an effective vaccine is developed and/or population immunity limits viral spread.
Real-time NGS can, for the first time in history, enable effective contact tracing and outbreak management, and highlight viral changes that could impact diagnostic and vaccine effectiveness.
To help scale testing, Illumina recently joined the National Institutes of Health's Rapid Acceleration of Diagnostics (RADxSM) initiative and will launch our own COVID Testing Service. We believe these efforts will help close the testing gap and provide actionable sequencing information to inform viral control.
Scaling COVID testing was always going to be an enormous challenge. Earlier this year, the Safra Center for Ethics at Harvard University suggested we would need 5 million tests a day in June, ramping up to 20 million a day by fall. The Rockefeller Foundation proposed increasing to 30 million per week by fall. Others have suggested a more modest 500,000 per day while still predicting a greater need.
But testing alone will not be sufficient. The variation in these projections are based on assumptions about the virus's basic reproductive value and the effectiveness of social distancing and contact tracing programs. These efforts must be equally robust.
As of August 25, the U.S. reported 79.6 million tests with 9% overall test positivity. Over the past two months, testing has ranged between 479,000 and 927,000. While this current testing capacity meets the low range, we remain 10- to 20-fold below the higher testing recommendations.
This is an ongoing emergency. Nations that successfully controlled COVID-19 embraced testing early and experienced low test positivity percentages (i.e., positive tests divided by all testing* 100): New Zealand 0.4%, Taiwan 0.6%, Australia 0.6% and South Korea 1.5%.
The World Health Organization (WHO) has suggested positive rates should be kept between 3% and 12%, and must be matched with aggressive contact tracing and quarantining. At 9% positivity, the U.S. meets the WHO criteria but offers only 10% of the testing it needs to match other nations that have successfully contained COVID-19.
Illumina has been focused on helping our customers leverage next-generation sequencing (NGS) to meet growing testing demands; however, we foresee ongoing testing shortages and will begin contributing directly through our COVID Testing Service. For consumers, testing with Illumina's COVID Testing Service will be available through employers and health institutions, for approximately the same price as most PCR-based tests.
Using COVIDSeq Test, our test authorized by the FDA under an emergency use authorization for the detection and diagnosis of COVID-19, we will develop the capacity for 48,000 test per day in the U.S. For most positive samples, a full-length SARS-CoV-2 sequence will also be developed for research purposes. In addition to helping increase U.S. diagnostic capacity, the service will generate thousands of viral sequences. This will be increasingly important as the virus continues to evolve and vaccines come into clinical use. In addition, because the FDA has authorized COVIDSeq on the NovaSeq 6000 Sequencing System as well as the NextSeq 500, NextSeq 550 and NextSeq 550Dx (in RUO mode) systems, many labs, certified under CLIA to perform high complexity tests, can also provide both diagnostic results and SARS-CoV-2 sequences. High-volume sequencing has the potential to revolutionize public health contact tracing and pandemic control for COVID-19 and future pathogens.
The nations that have had the most success at controlling the pandemic introduced testing early, quarantined, performed contact tracing and instituted national social distancing measures. Unless contact tracing can be performed efficiently within two to three days of identifying an infected person, these efforts can slow, but will not stop, viral spread. Real-time NGS can, for the first time in history, enable effective contact tracing and outbreak management, and highlight viral changes that could impact diagnostic and vaccine effectiveness.
In the U.S., contact tracing has largely failed due to insufficient public health infrastructure, limited or delayed access to diagnostic testing, and the relatively high proportion of asymptomatic individuals infected with SARS-CoV-2.
As our COVID testing service ramps up, we will begin generating thousands of COVID-19 sequences each week. Supported in part by RADx, this work could be integrated into public health efforts to make proactive genomic surveillance at scale a reality.
This data could help reopen schools and businesses safely and help prevent future outbreaks. If integrated into public health efforts, the COVID Testing Service could help realize the National Academies of Science, Engineering and Medicine's vision of modernizing the nation's pandemic response strategies.
I am proud of what we have accomplished. Our many advances have made sequencing affordable, scalable and accurate, enabling NGS-based diagnostic tests, particularly COVIDSeq. As we launch the high-throughput Illumina COVID Testing Service and CLIA-certified labs adopt COVIDSeq, the U.S. will be better positioned to demonstrate how this capacity can control current and future pandemics.
For more information on the RADx initiative, click here.