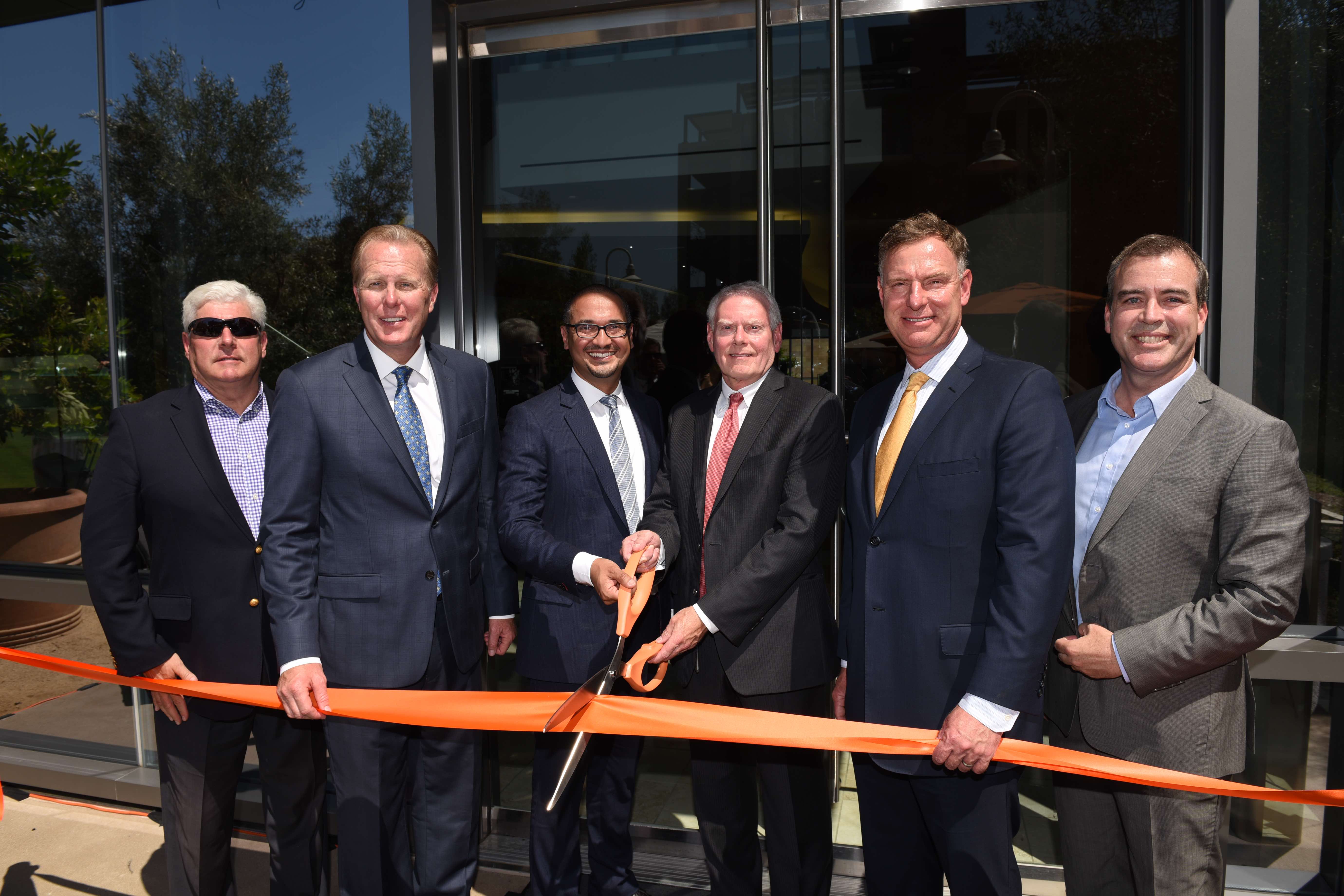 June 29, 2016
Illumina was a small startup with fewer than 30 employees when Jay Flatley took the helm of the company as its chief executive officer in 1999. Since then, he grew the company from less than $1 million in revenue to $2.2 billion and brought DNA sequencing technology to market that wasn't even imaginable 17 years ago.
The company now has more than 5,000 employees worldwide and is a global leader in genetic sequencing instruments with products and services used to identify rare genetic diseases, improve food safety and supply, inform cancer treatment and improve human health by unlocking the power of the genome.
"Jay's vision and leadership have made Illumina a commercial success, a jewel in San Diego's innovation economy, and the leading provider of technologies for genomic analysis around the world," Francis deSouza, President and incoming CEO at Illumina said at a dedication ceremony on June 20.
The ceremony took place at the Illumina headquarters in San Diego where deSouza joined San Diego life science and civic leaders, including Mayor Kevin Faulconer, Congressman Scott Peters, and many community members to celebrate Flatley's legacy. Illumina dedicated its research and development facility, a four-story, 127,000 square foot building as the new Jay T. Flatley Innovation Center. The first floor Innovation Gallery features exhibits and displays that showcase the company's history, as well as the sequencing technologies launched under Flatley's leadership.
"Jay is a large part of the Illumina story," said Karen Possemato, Chief of Staff at Illumina. "His ambitious vision and passion for innovation has led the creation of world-class sequencing instruments and tools that are fueling discoveries with the ultimate goal to improve health for all."
During Flatley's tenure, Illumina has made remarkable strides in genomics with launches of new array scanning and next-generation sequencing platforms. The dramatic decline in the cost of sequencing a human genome from hundreds of millions of dollars to just $1,000, was made possible by Illumina's innovations. MIT Technology Review named the company the World's Smartest Company in 2014.
"When you think of innovator, when you think of pioneer, that's Jay Flatley," said San Diego City Mayor Kevin Faulconer. "Illumina's growth is really about San Diego's growth and that leadership of innovation that we're proud of here in California and across the globe. Illumina and Jay are a huge part of that."
Flatley will step down as CEO become executive chairman on July 5. Illumina's President Francis deSouza has been named the new CEO.
For a first look at the new Jay T. Flatley Innovation Center, and to see Flatley's surprise reaction to the building dedication, click on the video.