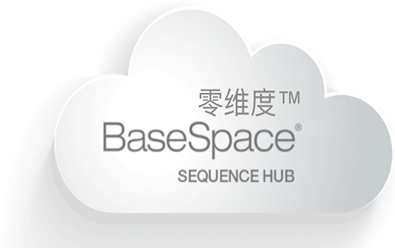 January 29, 2018
Today, Illumina announced the regional availability of BaseSpace Sequence Hub in China. BaseSpace Sequence Hub is a direct extension of your Illumina instruments. Data flows directly from the instrument into BaseSpace Sequence Hub, which enables you to manage and analyze data using a curated set of analysis apps. It is the Illumina cloud-based solution for genomic data storage, management and analysis, that quickly enables start-up operations and helps existing operations increase sequencing volume and efficiencies. It provides customers with an ecosystem for easily analyzing and managing data sequenced on Illumina platforms and library preparation kits, including the recently launched AmpliSeq™ for Illumina chemistry product
The BaseSpace Sequence Hub helps with the universal quest to learn more about human health. To learn more about human health, countries around the world are launching large-scale precision medicine initiatives to examine the genomes of thousands of people. China is one of the country's leading the way. In 2016, the Chinese government announced its China Precision Medicine Initiative. In the past two years, it has deployed about 100 projects. This initiative is widely welcomed by the healthcare industry and triggers innovations from large sequencing centers, a growing number of startups and researchers with an increasing number of sequencing applications across China.
Using the new regionally based BaseSpace Sequence Hub, Chinese researchers can instantly stream data from their sequencing instruments to the cloud. After sequencing, researchers can use a number of tools to analyze data and collaborate. The collaboration tools, in particular, empower the diverse group of researchers involved in precision medicine initiatives to interact with multiple sequencing sites belonging to the same or different organizations.
"We are excited to be part of the genomics innovation taking place in China," said Ruilin Zhao, vice president and general manager for greater China at Illumina. "BaseSpace Sequence Hub provides the sequencing community with an efficient, scalable, robust solution for data management and analysis."
The China Hub is hosted by Beijing Sinnet Technology Co. Ltd., an Amazon Web Services partner, is ISO27001 certified[1], and meets Chinese privacy and regulatory guidelines for keeping genomic data within China. Illumina already hosts instances of BaseSpace Sequence Hub in the United States and Germany. All instances will support the recently announced iSeq™ instrument.


[1] https://www.illumina.com/company/news-center/feature-articles/illumina-receives-iso-27001-certification.html
For Research Use Only. Not for use in diagnostic procedures.