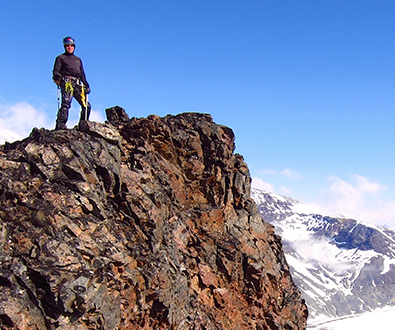 February 6, 2018
The power of genomics is most often associated with improving human health, in areas such as drug discovery, precision medicine, diagnostics and direct-to-consumer applications. We are now seeing these applications expand to a new cutting-edge science in advanced materials.
A new materials science startup, Checkerspot, is graduating from Illumina Accelerator's sixth funding cycle. Checkerspot is applying genomics at the nexus of biology, chemistry, materials fabrication and big data by offering novel materials to address some of humanity's current challenges, including climate change, supply chain sustainability and a movement away from toxic chemicals.
Checkerspot designs high performance materials by starting at the molecular level, and then applies chemistry to deliver novel compounds with extraordinary physical properties. Charles Dimmler, CEO and co-founder of Checkerspot says, "We begin each project by asking consumers, product developers and materials engineers the same question: 'What problems are you trying to solve?' With a collaborative approach, we can create materials that are intentionally designed with our customer specifications in mind."
"We are doing our part to connect the dots and bring to life what these modern technologies unlock. Simply put, our platform enables us to make better materials for consumers," says Scott Franklin, co-founder and Chief Scientific Officer of Checkerspot.
Checkerspot is named after a butterfly native to the Sierra Nevada Mountains, where two of its team members actively volunteer with the Mountain Rescue Association. It's a team whose collective outdoor enthusiasm informs their work, and inspired Checkerspot to bring its first product innovations to life in the outdoor recreation market.
"There is true elegance and beauty everywhere in nature. Evolution and Mother Nature have created materials with amazing structure and functional performance, and the wings of a butterfly symbolize this for us," adds Dimmler.
The company is doing exactly that in their molecular foundry: Taking cues from nature and applying the tools of genomics and biotechnology. Through its work at Illumina Accelerator, Checkerspot is expanding beyond the known palette of materials by tapping into novel molecular building blocks that are found in nature but not yet available at an industrial scale.
Checkerspot is building momentum with consumer brands on prototyping and product development using its advanced materials. "When you're in the realm of what seems like science fiction to many, animating what's possible so people can see, touch and feel these new materials in high-performance, end-use products, is incredibly impactful," said Franklin.
"We are also inspired by our partners' shared vision for sustainability," adds Dimmler. "We recently received specifications from a major consumer brand for a next-generation, high performance polyurethane that had the added benefit of being more sustainable. When we were able to create and deliver this product at spec, everyone was thrilled."
Checkerspot intends to expand its approach into other areas such as the automotive market for light-weighting of more fuel-efficient vehicles. The company is also exploring products beyond consumer applications, including biomedical, consumer electronics, food/nutrition and building materials. The company aims to empower designers with new design materials, as well as both the tools to evaluate and iterate on those materials for broader applications.
Having a fully integrated approach means that Checkerspot is collecting data along the way from the molecular biology level, microbial production systems, chemistry and soon even the materials in-use.
"Computing and data engineering is unlocking predictive capabilities, but the success of any prediction is going to be dependent on high quality data, and we actively invest in applying this rigor across our platform," said Franklin.
Recognizing the power of biotechnology and data science to create high performance materials is what drew Checkerspot to apply to Illumina Accelerator. "The opportunity to rapidly and cost-effectively complete whole genome sequencing and transcriptomics projects at Illumina Accelerator was compelling," Franklin added.
"Ultimately, we are driven by a passion for technologies that we think can make a positive impact in materials science," said Dimmler. "When we came to Illumina Accelerator, we explained to their team that we were building an applications-focused platform that integrates molecular biology, chemistry and materials science with advanced fabrication. We knew this was going to be a great partnership when they showed deep curiosity and asked great questions."
"Over the last decade, we have begun to see the impact genomics is making in human health," says Amanda Cashin, Ph.D., head of Illumina Accelerator. "We believe genomics is also on the cusp of transforming applications in materials science and are delighted to partner with Checkerspot, as they pioneer the convergence of materials science and biology."
Illumina Accelerator is accepting applications for its eighth cycle. Click here for more information or to apply. Applications are due on May 1, 2018.