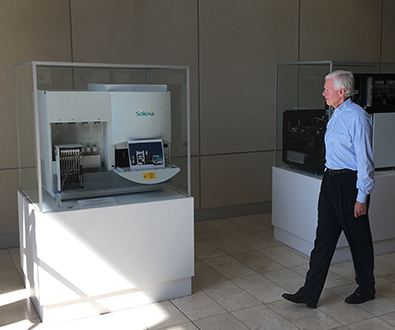 December 15, 2017
It's been a busy year for Illumina's Executive Chairman, Jay Flatley, who received several honors in 2017.
CONNECT - Entrepreneur Hall of Fame
In July, it was announced that Flatley was selected as the 2017 Inductee into the CONNECT Entrepreneur Hall of Fame, making him just the 16th awardee of the honor. CONNECT is an innovation company accelerator in San Diego that creates and scales companies in the technology and life sciences sectors. CONNECT is one of the nation's first start-up accelerators which over the last 30 years, has helped develop groups around specific innovation clusters and spin them out as stand-alone organizations. On November 30, Flatley was honored at the awards dinner for his extensive contributions to the genomics industry through building Illumina from a startup to an industry leader.
"It is an honor to be selected to the CONNECT Entrepreneur Hall of Fame, joining a distinguished group of prior awardees," said Flatley. "It has been a privilege to serve as the CEO of Illumina during such an exciting era where sequencing human genomes has become routine, and the cost has been driven down under $1,000. The potential impact on patients and the future of healthcare is extraordinary, and I thank the San Diego community and CONNECT for their role in our success."
California Life Sciences Association - Life Sciences Leadership Award
On November 10, Flatley received the Life Sciences Leadership Award from the California Life Sciences Association (CLSA) in San Francisco. Each year the CLSA recognizes excellence in the life sciences industry at its Annual Pantheon DiNA Awards Ceremony. The event celebrates contributions and achievements of California's leading life sciences innovators and recognizes the impact that California's therapeutic, diagnostic, medical device and industrial biotechnology companies make around the globe.
Founded in 2015, CLSA is California's largest and most influential life sciences advocacy and business leadership organization. CLSA works closely with industry, government, academia and others to shape public policy, improve access to innovative technologies and grow California's life sciences economy.
Personalized Medicine Coalition - Lifetime Achievement Award
On November 15, Flatley received the Lifetime Achievement Award at the Personalized Medicine Coalition (PMC) at its conference in Boston, MA. The Personalized Medicine Coalition represents innovators, scientists, patients, providers and payers, promotes the understanding and adoption of personalized medicine concepts, services and products to benefit patients and the health system. Recognizing that a paradigm shift in medicine will not happen just because the science suggests it should, the PMC's members have identified key priorities in education and advocacy, which include education and advocacy.
In his keynote address, Flatley said, "I'm in awe of what we've accomplished [in genomic medicine], but find it shocking that we've limited the use of these tools through over-regulation and other systemic issues." Flatley concluded by painting a picture of the future era of personalized genomic medicine: "Imagine every baby sequenced at birth, part of their electronic health record, which is used to manage their health through their lifetime."
Congratulations to Jay on these well-deserved honors!