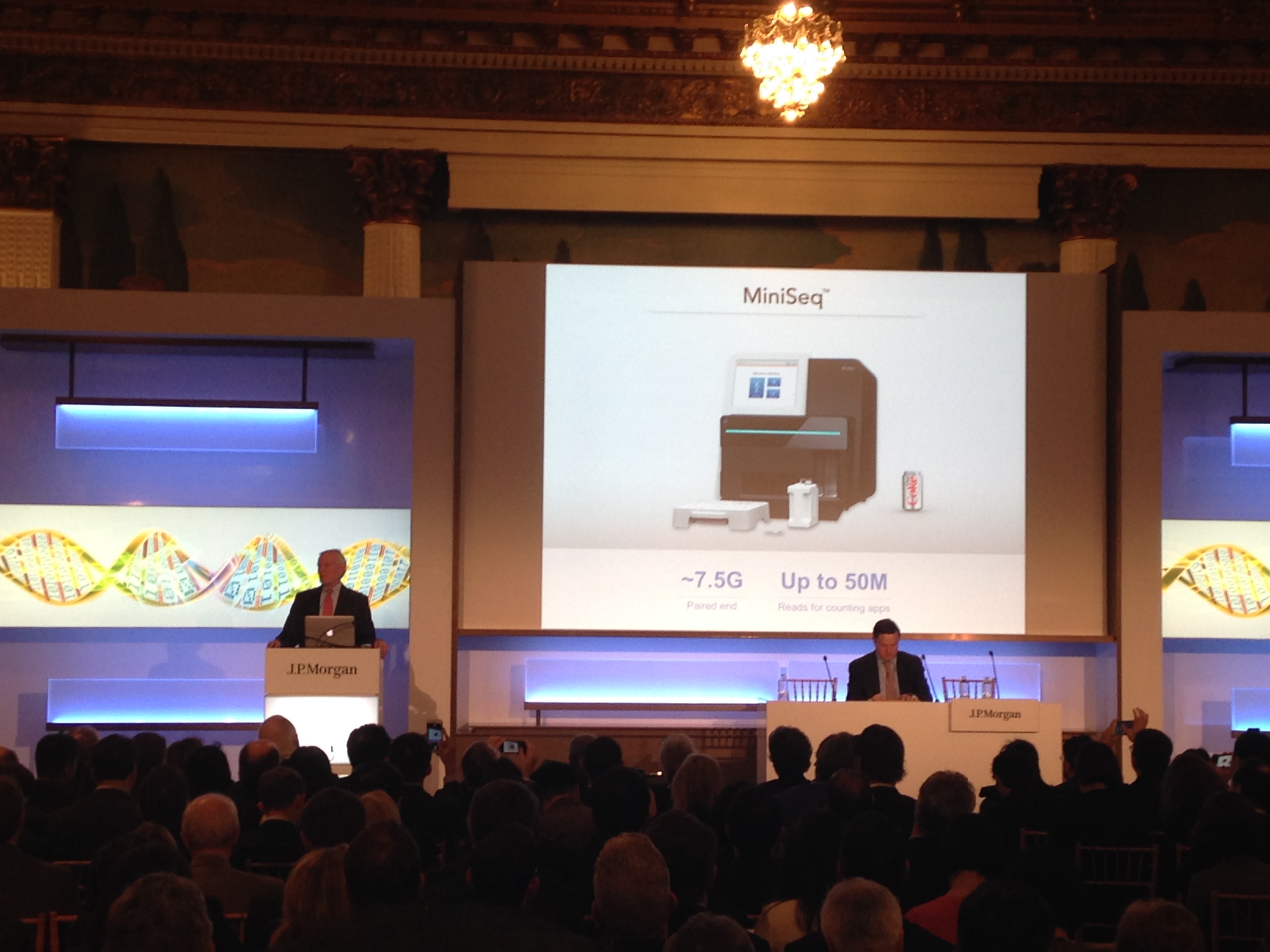 January 12, 2016
The J.P. Morgan Healthcare Conference is in full swing, and the energy is high after Illumina CEO Jay Flatley spoke with investors yesterday.
Over the past few days we've made some big announcements, and there is a lot I'm excited about as we continue to innovate and lead the market in next-generation sequencing (NGS) and arrays, creating sample-to-answer solutions that expand our market footprint.
Sunday, we announced GRAIL, a new company we have formed to develop and implement a pan-cancer screening test from a simple blood draw. GRAIL's mission is to enable the early detection of cancer in asymptomatic individuals. We believe GRAIL will have the potential to make the first major dent in global cancer mortality.
Yesterday during Jay's JPM presentation, we showed our commitment to accelerating NGS market expansion by announcing a partnership with Bio-Rad to develop the most comprehensive next-generation sequencing workflow for single-cell analysis. This follows our recently announced partnership with bioMérieux, a world leader in the field of in vitro diagnostics, to launch bioMérieux EpiSeq, an innovative next-generation sequencing service dedicated to the epidemiological monitoring and control of healthcare-associated infections. Partnerships like these are enabling markets and building an ecosystem around our core sequencing technology.
We reinforced our market and technology leadership in arrays and sequencing with several key announcements.
We announced the Infinium XT Assay, Illumina's highest throughput array format to date. This product will enable a diverse set of applications, from genetic improvement studies aimed at increasing the yield and security of the global food supply, to supporting biobank and personalized medicine initiatives through large-scale genotyping studies.
We also announced the MiniSeq Sequencing System, which makes our trusted sequencing technology even more accessible to all labs who want to do research or routine testing. Priced at $49,500 USD, the MiniSeq is designed to meet the growing needs for targeted sequencing by molecular pathologists, traditional researchers and molecular biologists.
Finally, we gave a preview of Project Firefly, a development program for a new system that will lead to the commercialization of a new semiconductor-based sequencing system in the second half of 2017. Sharing this demonstrates our vision for the future of NGS, where users will go from purified DNA to answers with simplicity and ease, at a very affordable system price of $30,000.
Exciting beginning to the week and the year – important steps forward in making a future that is powered by genomics possible.