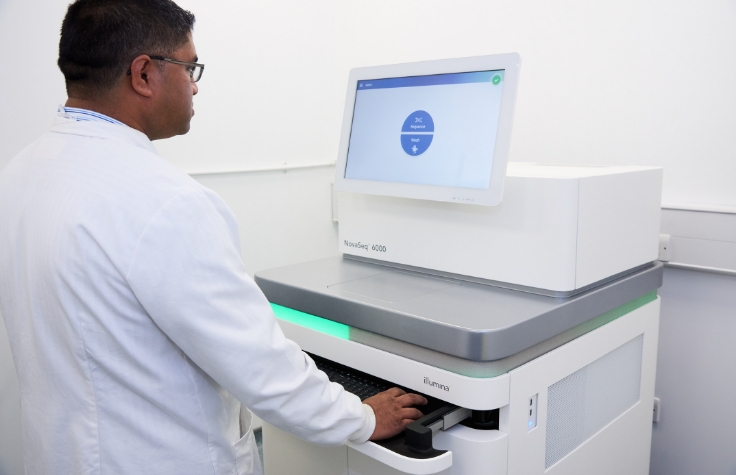 November 20, 2018
Infertility is a disease of the reproductive system that impairs the conception of children. It is defined in practical terms as a couple's inability to achieve pregnancy after a year of unprotected intercourse and is a common global problem. Often in cases of infertility, immediate attention goes towards testing and treatment for the female. However, according to the Centers for Disease Control and Prevention, in about 35 percent of couples with infertility, a male factor is identified along with a female factor; and in about 8 percent of couples with infertility, a male factor is the only identifiable cause.
There is very little known about the genetic causes of male infertility. Joris Veltman, Director of the Institute of Genetic Medicine at Newcastle University in the United Kingdom, and Jonathan Coxhead, head of the Genomics Core Facility at the university, are using the NovaSeq to study 1,500 men with infertility and attempting to understand some of the underlying genetic factors that may be leading to their infertility struggles.
"The link between genetics and infertility is not immediately obvious, as infertility cannot be passed on to the next generation without the use of assisted reproductive technologies. Much of the research done in this field so far has focused on looking for recessive causes of syndromic forms of infertility, often in patients from consanguineous families – those descended from the same ancestor," said Veltman. "We want to broaden the research into male infertility by using the NovaSeq to sequence large cohorts of infertile men and their parents, who clearly were not infertile."
"My previous research on the genetic of intellectual disability, using exome and genome sequencing, pointed to a major role for dominant de novo germline mutations – or new mutations – in disorders affecting fitness. As infertility also affects fitness, we hypothesize that de novo mutations can also play a prominent role in severe forms of male infertility, especially in outbred populations," added Veltman. For this he has set-up study protocols to collect DNA from infertile men and their parents, a unique cohort that will help to link mutations to infertility and identify novel genes for this understudied disorder.
Veltman points out that genetic information can also help identify a person's risk of developing other disorders and aim to prevent these; infertility is associated with many co-morbidities including cancer. In addition, it may point to novel fertility treatments and could help to prevent passing the infertility problems onto the next generation.
"If you know the genetic cause of infertility, you are able to provide a couple with much better information about the chances of reproduction using different assisted reproductive technologies," said Veltman. "Based on this information, couples may be better informed to decide whether or not to undergo treatment or choose from other options, including adoption."
The Newcastle Institute of Genetic Medicine team is made up of scientists with a range of experience, spanning from technicians who are familiar with next-generation sequencing, to others who are sequencing for the first time. Coxhead and Veltman say the team jumped right into using the NovaSeq System after their training to perform rapid and affordable large-scale exome and genome sequencing for the different research groups within the male infertility cohort.
"Our ability to perform whole exome sequencing has increased tenfold with the NovaSeq at our disposal," said Coxhead. "The genomics core facility has been involved in single-cell sequencing for a number of years now; however, the integration of 10X Genomics library prep with NovaSeq's throughput has enabled us to provide a sequencing service and prepare data for grant applications linked with the Human Cell Atlas project."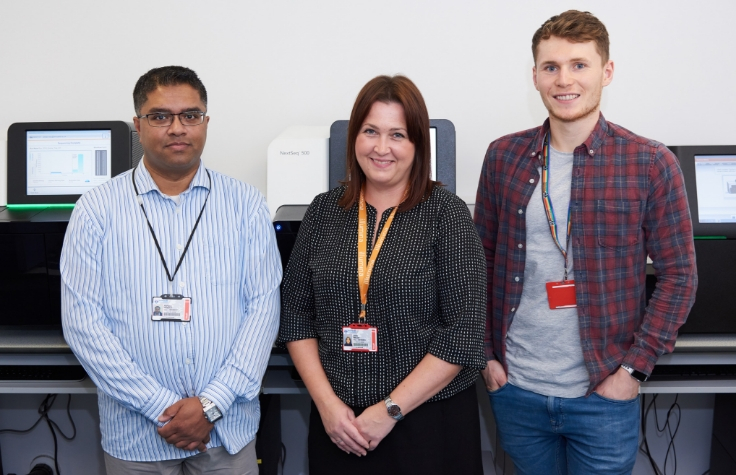 The Newcastle team recognizes how crucial international collaboration and data sharing is for genomics research and Veltman set up the International Male Infertility Genomics Consortium (IMiGC) with colleagues from Australia, the U.S. and Europe. The consortium's mission is to identify and characterize the genetic causes of male infertility, allowing for improved diagnostics, development of novel treatments and enhanced patient care. Within the consortium there are three key working groups, each focused on specific aspects of male infertility research and diagnostics, which include clinical phenotyping and patient inclusion, genetic studies and bioinformatics as well as functional studies.
"My feeling is that male infertility is becoming less of a taboo. Men are speaking out more and the topic is getting more attention in the media," said Veltman. "Most men are very happy to contribute to our research and willing to contact their parents to participate by providing a saliva sample. The fact that we got significant funding from both the Dutch Scientific Organization as well as the Wellcome Trust also indicates that funding agencies see the need to invest in this research."
For more on The Newcastle Institute of Genetic Medicine team and their research, visit: https://www.ncl.ac.uk/igm/