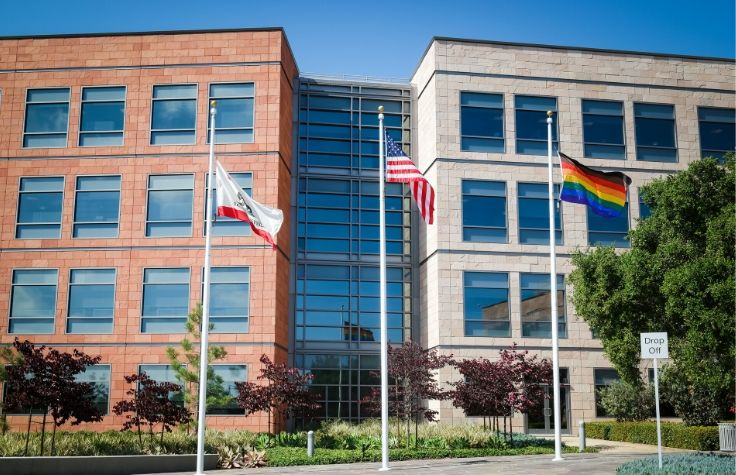 June 20, 2020
By: Karen Gütekunst, Vice President of Regulatory Affairs at Illumina
This month, we celebrate the 1-year anniversary of iPride, our employee resource group (ERG) dedicated to supporting our LGBTQ community. This year we celebrate Pride Month by flying the Philadelphia Pride Flag. The flag contains both a brown and a black stripe in addition to the other rainbow colors to draw specific attention to the issues facing LGBTQ people of color. It is vital that we value and foster racial diversity in our communities.
I am proud to work for a company that places such a high value on inclusion and diversity.
Thirty years ago, Archbishop Desmond Tutu spoke these words: "If you are neutral in situations of injustice, you have chosen the side of the oppressor." We can make a difference by joining together to support Black Lives Matter and committing ourselves to taking action.
The LGBTQ community is no stranger to resisting police brutality and violence. In fact, June has been designated US National Pride Month to commemorate the community's resistance of police harassment and brutality at the Stonewall Riots. As a company and as a community that values diversity, we see and condemn the racism and injustice experienced by black people. We recognize the work that still needs to be done to eliminate the discrimination faced every day by marginalized groups. In support of our local community, Illumina is excited to be sponsoring San Diego Pride this year. While the actual event will be a bit different this year due to the COVID-19 pandemic, we understand the importance of supporting these organizations in our community.
A shining moment for us as a company came earlier this year when we were included on the Human Rights Campaign Foundation's 2020 Corporate Equality Index, earning us the title of a "Best Place to Work" for the LGBTQ equality. This index is a national benchmark on corporate policies and practices that are pertinent to lesbian, gay, bisexual, transgender and queer employees, and to be listed on it means that Illumina earned a top score of 100 out of 100.
I am proud to work for a company that places such a high value on inclusion and diversity. And we are all thrilled with this week's historic Supreme Court ruling that workers cannot be fired for being gay or transgender in a blockbuster win for members of the LGBTQ community. We are making great progress, but we know there is still a lot more work to do. This month we are taking a moment to recognize our great start, while we continue to speak up, and speak out, in support of equality.