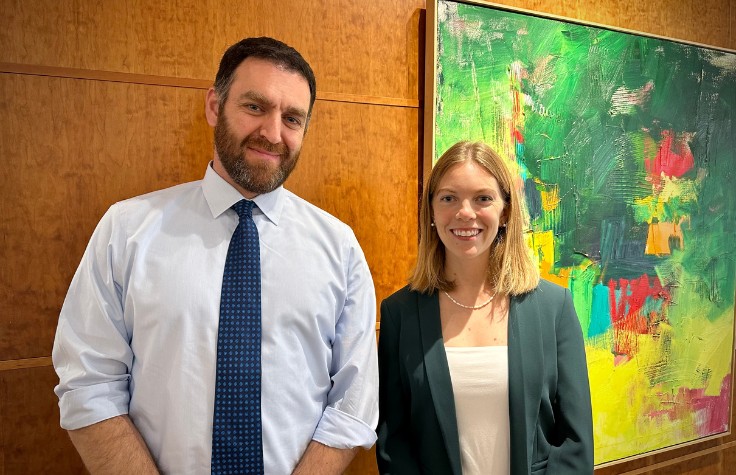 October 10, 2023
Emma Johnson, PhD, assistant professor of Psychiatry at Washington University School of Medicine in St. Louis, was thrilled to win Illumina's Polygenic Risk Scores Research Grant Contest. The grant will provide 1008 samples of the Infinium™ Global Diversity Array with Polygenic Risk Score Content plus Illumina Polygenic Risk Score software–Predict module to generate polygenic risk scores (PRS) for pain and opioid use disorder.
"Polygenic risk scores represent a person's relative genetic liability for a behavior, disease, or psychiatric disorder, and are created using summary results from genome-wide association studies (GWAS)," says Johnson. "In this case, we're interested in using the results from GWAS for chronic pain and opioid use disorder—which have identified genetic variations between people who experience either chronic pain or opioid use disorder and those who don't—and using that data to create polygenic risk scores in a unique and diverse cohort."
The contest received submissions from noteworthy research groups in nine different countries spanning North and South America, Europe, and Asia. Each entry was judged on novelty, feasibility, scientific merit, potential impact on human health, and the authors' previous accomplishments.
While chronic pain and opioid use are known to be genetically correlated, previous GWAS never investigated these disorders simultaneously in carefully characterized groups. Instead, the studies focused on the causal relationship between them.
Johnson and collaborator Simon Haroutounian, PhD, chief of the Division of Clinical and Translational Research and chief of Clinical Pain Research at Washington University Pain Center, wondered if genetic factors might influence that relationship. For example, different genetics might affect the reward processes that govern how people perceive pain or respond to opioids.
"Dr. Haroutounian has been studying a unique cohort with deep clinical phenotyping for chronic pain, opioid use, and opioid craving, as well as symptoms of depression and anxiety," says Johnson. "Also, the DNA has already been extracted from this diverse group of 1500 samples. Winning this contest will allow us to genotype just over a thousand of those samples. Then we'll use Illumina's PRS software with the Predict module to create scores for chronic pain and opioid use disorder."
In addition, the team, which also includes collaborator Arpana Agrawal, PhD, will perform a cross-trait multivariate genome-wide study to look at potential genetic factors that are shared across chronic pain and opioid use disorder. From there, they can link these PRS to baseline preoperative pain and acute and chronic postoperative pain, as well as anxiety, depression, pain ratings, and analgesic craving.
"This was the perfect opportunity to genotype this unique cohort to better understand the relationship between chronic pain, substance use, and other psychosocial factors," says Johnson. "We hope this work will improve the management and treatment of chronic postsurgical pain, eventually giving clinicians a better tool to identify patients who might be at greater risk of developing an opioid use disorder alongside their chronic pain."
The Illumina Polygenic Risk Scores Research Grant was launched to recognize researchers who can drive advances in genetic risk prediction. Although PRS can impact complex disease research and healthcare in various ways, unraveling the complexities of the genome using the full potential of PRS-based research remains a developing field that is rich with opportunities for scientific advancements. To learn more about the contest, click here.
To learn more about the first genotyping-to-analysis solution from Illumina, click here.
To dive deeper into Emma Johnson's research with the Inside Precision Medicine Podcast, click here.