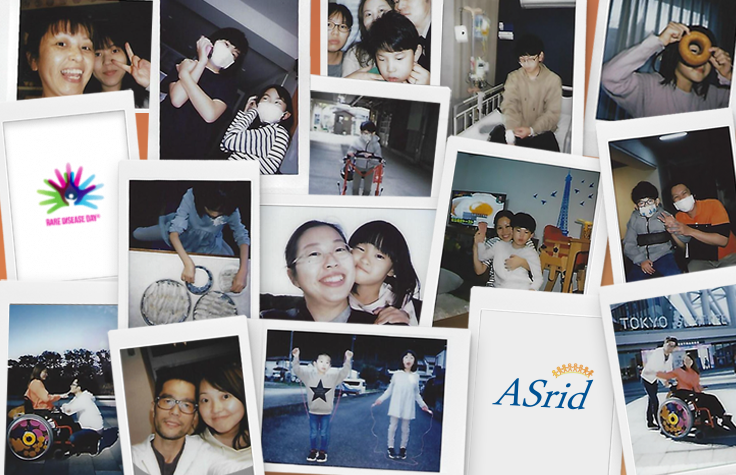 February 15, 2022
Ahead of Rare Disease Day, Illumina is recognizing four rare disease patient organizations around the world. ASrid is the third in our series this month.
The kids in Kanade Kawagoe's elementary school class were excited to see a Polaroid camera for the first time. "The children, who are used to being photographed with their cell phone cameras, waited with sparkling eyes for the photos to come out of the camera," says Naomi Kawagoe, Kanade's mother. "The sight of these children was awe-inspiring." The Kawagoes were photographing a day in the life of rare disease.
Naomi's son Kanade has MECP2 duplication syndrome, a neurodevelopmental disorder with a wide range of symptoms and no cure. Naomi still says she will never forget the day she learned that a paper had been published about a gene therapy for MECP2 duplication syndrome. "Until then, I had thought that only symptomatic treatment was available. I felt so excited, thrilled, and indescribably happy that he might be able to make a complete recovery one day."
The Kawagoes are involved in a nonprofit organization based in Tokyo, Japan called ASrid (Advocacy Service for Rare and Intractable Diseases). Founded in 2014, ASrid connects rare disease patients and their families to support groups, researchers, medical professionals, and others. The organization also promotes awareness and hosts events.
While there are more than 6,000 individual rare genetic conditions, rare disease is collectively common. Genetic diseases affect about 300 million people worldwide, the vast majority of whom are children.
In 2008, EURORDIS-Rare Diseases Europe, a nonprofit alliance representing 984 rare disease patient organizations in 74 countries, created Rare Disease Day to "work towards equity in social opportunity, healthcare, and access to diagnosis and therapies for people living with a rare disease." The day is observed every year on February 28 (or 29, the rarest day of the year). ASrid has more than 50 official Rare Disease Day events happening in Japan this year—the highest number ever.
Illumina recognizes Rare Disease Day and extends it to the entire month of February in order to highlight and support various organizations. This year we are focusing on SLC6A1 Connect in the US, ASrid in Japan, NoRo in Romania and Rare Diseases South Africa. Illumina's patient advocacy team sent Polaroid cameras and asked these four organizations to capture a day in the life of a rare disease family. We received hundreds of photos and anecdotes from families on four continents, some of which you see here (stay tuned for more throughout the month). We hope that the images will convey the good and the difficult. "This is the day when various connections are made," says Naomi Kawagoe, "and the world expands."