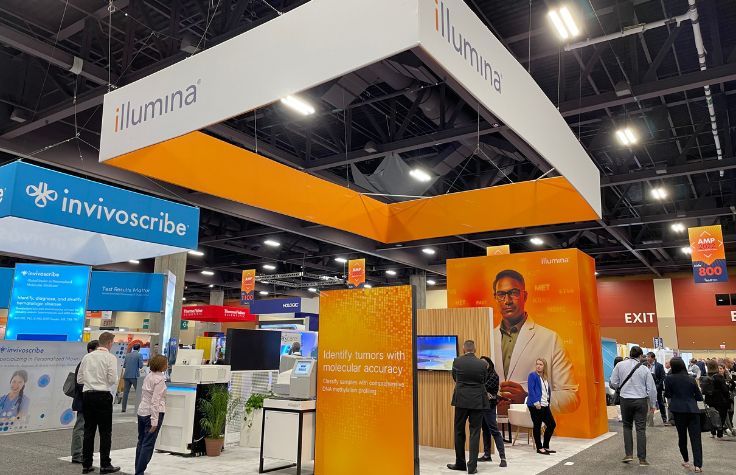 November 7, 2022
At the Phoenix Convention Center in Arizona, representatives from Illumina, a global leader in DNA sequencing and array-based technologies, joined approximately 2000 molecular diagnostic professionals this month for the Association for Molecular Pathology (AMP) 2022 Annual Meeting & Expo.
More than 100 abstracts accepted by AMP this year cite Illumina technology, with dozens using the Illumina TruSight Oncology 500 Research Assay (TSO 500) specifically. In collaboration with Labcorp, Illumina presented two important studies focusing on tumor-agnostic gene fusions in oncology patients. Labcorp is a leading global life sciences company with deep oncology expertise in precision medicine diagnostics, clinical trials, and drug development.
Why study fusions?
Genomic alterations known as gene fusions often drive cancer and can be important across different patient tumor types. Today, targeted therapies exist for a growing number of gene fusions. In order to accurately identify all potential gene fusions and genomic biomarkers, a comprehensive genomic profiling test should include both RNA and DNA sequencing.
In the first study, the authors analyzed more than 6700 solid tumor samples. "Using comprehensive genomic profiling, or CGP, with RNA sequencing, we were able to identify 17 NTRK1, NTRK2, and NTRK3 fusions in 16 patient tumors, 10 of which were novel—a stunning number," says Dr. Shakti Ramkissoon, vice president and medical lead, Labcorp Oncology. Since NTRK fusions are tumor agnostic, the study authors sequenced samples from breast, colorectal, non-small-cell lung cancer, and more. NTRK fusions are rare and can be difficult to detect by DNA sequencing alone, since the gene breakpoints occur across large, intronic regions and have many partner genes. The authors used TSO 500 for RNA and DNA sequencing.
To date, the response rate for tumors harboring NTRK fusions treated with NTRK inhibitors has proven to be very high. With larotrectinib, which is approved for all solid tumors including pediatric, objective responses are observed in 79% of patients.1 This means patients may enjoy longer survival and a better quality of life—if the fusion is identified in time to receive treatment.
The second AMP abstract focuses on detection of NRG1 fusions, another rare but therapeutically relevant target in cancer that cannot be detected by DNA sequencing. The study authors analyzed 4397 patient samples across multiple tumor types using TSO 500 for RNA and DNA sequencing and identified 19 NRG1 fusions in 17 unique patients. Identifying NRG1 fusions is critical, since these patients typically lack other driver alterations and targeted treatment options. Patients with NRG1 fusions were eligible to participate in a clinical trial that's currently underway. The Food and Drug Administration recently granted fast-track approval for a HER3 inhibitor (serbantumab) to treat solid tumors with NRG1 fusions.
"RNA-based sequencing has emerged as an effective method to detect novel fusions," says Dr. Pratheesh Sathyan, who is part of Illumina's Medical Affairs organization and its head of oncology in the Americas. "Illumina, in collaboration with leading companies like Labcorp, is bringing this technology to community oncology practices for reliable detection of the novel fusions in cancer diagnostics."