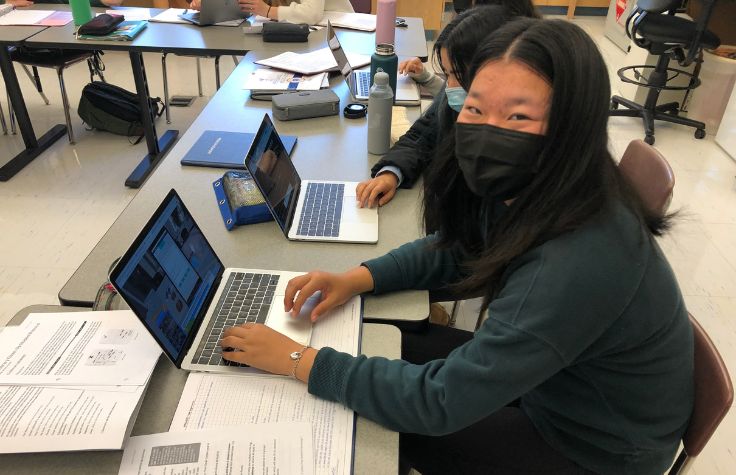 November 8, 2022
While visiting her grandparents in Florida, 17-year-old Kate frequented a pond near their house and spent time observing the various species of fish living there. She became interested in how two populations of fish—one living in the ocean, the other in this 50-foot-deep saltwater pond—might differ genetically.
Kate's taking a biotech capstone course at Menlo School in Atherton, California, and she'll use this question to drive her research project this semester. She plans to use PCR and DNA sequencing to search for genetic differences. Her teacher, Tanya Buxton, started the capstone course as an after-school biotech club in 1994 and has cultivated its growth ever since.
One tool Buxton's students use is a virtual simulation, Illumina Genomic Discoveries (IGD) DNA Library Preparation and Sequencing Simulation Lab, developed in partnership with Biocom California Institute (BCI) as a free resource for educators to introduce students to the key genomics concepts of DNA, PCR, and whole-genome sequencing.
"The IGD Simulation Lab is a hands-on experience in a virtual environment, exposing students to micropipetting, DNA library preparation and library clean-up protocols, PCR, and Illumina's state-of-the-art tagmentation and whole-genome sequencing technology," says Mikayla Ortega, BCI program manager. "Students get to be Illumina scientists for the day and work in a virtual lab space where they explore the equipment and complete the simulated experiment."
"It has always been important to me to stay up-to-date with the latest industry technology and bring it to my students through programs and industry mentors," says Buxton. "My experience with Illumina's virtual lab simulation was seamless because it includes a robust curriculum and resources. It also opened my students' eyes to a broader scope for their capstone projects to include DNA sequencing."
Buxton is one of 20 teachers who've been trained in the IGD curriculum. Many are based in Southern California, but IGD is growing in the Bay Area through partnerships between BCI and regional organizations and county offices of education. Buxton is also collaborating with the Bay Area Bioscience Education Community (BABEC) to introduce the simulated DNA sequencing experience to hundreds of students across the region.
"At Illumina, we are committed to equitable access to STEM education," says Sharon Vidal, global head of Corporate Social Responsibility at Illumina. "By partnering with our employees and nonprofit community partners like Biocom California Institute, we have created industry-aligned resources. Programs like the Illumina Virtual Lab empower teachers to create meaningful experiences for students around genomics and inspire them to explore careers in life sciences."
To explore the virtual lab, check out our resources at DNA Decoded or illumina.com/stem.

For educators interested in joining an upcoming virtual professional development session, click here.