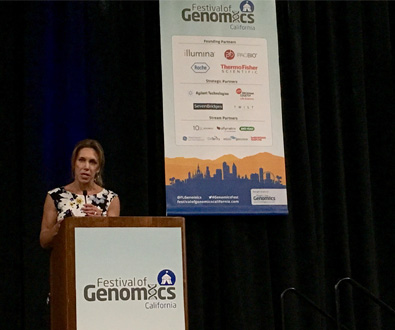 September 22, 2016
"Welcome to the genomics capital of the world," proclaimed San Diego Mayor Kevin Falconer in his opening keynote welcoming the Festival of Genomics to San Diego.
The Festival, produced by Front Line Genomics Magazine, came to San Diego for the first time this week, following previous programs in Boston, San Francisco, and London, England.
The two-day festival brought together leaders and visionaries in genomic medicine, cancer genomics, drug development, and genetic counseling, as well as researchers and developers of enabling genomics technologies and techniques like data processing, transcriptomics, and single cell analysis.
On display were many of the leaders in genomics who call San Diego home, including Stephen Kingsmore, President and CEO of the Rady Pediatric Genomic & Systems Medicine Institute, Rob Knight, Faculty Director, Innovation at UCSD, and David Wellis, CEO of the San Diego Blood Bank. They were joined by representatives from local San Diego-based companies, like Illumina, Human Longevity, Edico Genome, and research institutions like the University of California San Diego, Scripps Translational Science Institute, Salk Institute, and J. Craig Venter Institute, as well as genomics professionals from around the world.
In a keynote address on the second morning of the conference, Alex Dickinson, SVP, Strategic Imperatives at Illumina drew parallels between genomics and other industries revolutionized by technologies. "Data scales, stuff doesn't" he said, as he showed an image of a stack of 4x6 photos juxtaposed with a smartphone camera on the screen behind him. "The cloud is ideally suited for informatics processing," he added. It makes possible not only some of the population sequencing programs we are seeing from governments in England, China, and the United States, but also many clinical applications of genomics, like liquid biopsy and targeted cancer treatments, that require massive informatics capabilities and datasets to develop.
Dawn Barry, VP of Applied Genomics at Illumina offered thoughts on the importance of more people having their genomics sequenced for health care management throughout life. "You want to talk about personalized medicine? What's more personal than your genome?" she asked as she described the company's Understand Your Genome program, and lessons learned from the sequencing of so-called "healthy genomes." She reiterated that having your genome sequenced is not simply a test, but a health resource to be used throughout your life.
Erica Ramos, Staff Genetic Counselor at Illumina and President-elect of the National Society for Genetic Counselors was Chair of a special genetic counseling track designed to help genetic counselors navigate new professional questions arising from the increasing use of genomic testing in clinical care. The track examined hot topics in the field, such as the use of social media, new tools for genetic counseling, and career paths.
While the genomics industry is diverse, one clear theme emerged. Continued innovation in genomics will create new opportunities to improve the human condition around the world.