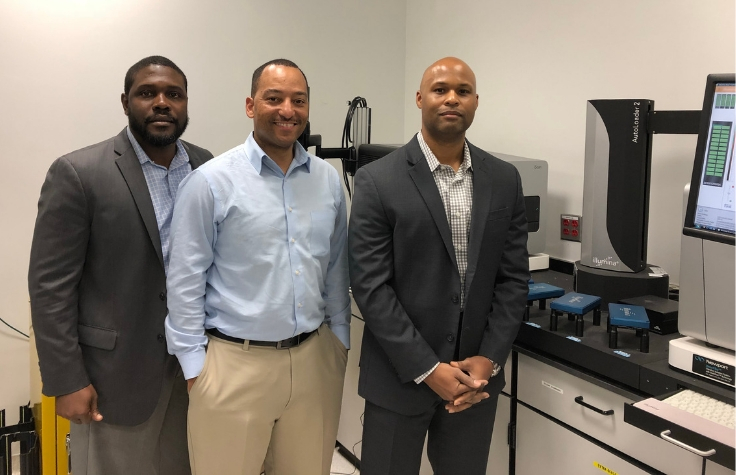 November 11, 2018
Here is an alarming statistic: On average, 20 veterans take their own lives every single day. Earlier this year, the U.S. Department of Veterans Affairs (VA) published a report that analyzed data from 2005-2016 and concluded that veteran suicide rates increased almost 26 percent during that time. On average, suicide rates for veterans were 1.5 times greater than for non-veteran adults.
Post-traumatic stress disorder (PTSD) is a mental health condition that some develop after experiencing or witnessing a life-threatening event, such as combat. One in five veterans and service members are affected by PTSD. However, PTSD does not just affect veterans: 24 million U.S. civilians experience PTSD over their lifetime and more than 700 million people globally – that is about 10 percent of the world's population – are affected by this disorder.
TruGenomix Health, Inc. is a service-disabled veteran-owned precision genomics company working to develop solutions for PTSD by offering better identification of the condition and targeted, individualized treatment options. The company is the brainchild of two veterans with a passion for medical research and a desire to help their fellow service members. TruGenomix Health recently graduated from Illumina Accelerator's seventh funding cycle.
Yusuf Henriques served as a Combat Medic in the U.S. Army. When his military career was cut short due to service related injuries, he returned to school to earn biology and chemistry degrees, and then began a career in the healthcare industry. Charles Cathlin is an Air Force Academy graduate, and former Chief of Staff of the Defense and Veterans Brain Injury Center. Charles retired this past May after completing 23 years in uniform as an Air Force and Public Health Service officer.
"Much of our motivation and passion for starting this company is tied to our personal stories," said Henriques. "I served as a combat medic and saw the devastation of what trauma does to service members and their families. Also, I suffer from PTSD and actually sought treatment at the Washington D.C. VA Trauma Service Center."
Henriques says his decision to reach out for help saved his life. "I understand that coping with PTSD isn't easy. What really galvanized me to get up and tackle this problem was when a veteran in our local community of Rockville, Maryland took his own life. He was the daycare provider at my kids' school and that really shook me up. I knew I needed to help make a change," he said.
Cathlin, a native New Yorker, also has experience with the effects of PTSD. "On Sept. 11, 2001, I had just transferred to the Public Health Service when my best friend from the Air Force Academy called me from the Pentagon. During that call, a plane crashed into the building. Fortunately, he was one of the lucky ones who made it out alive."
A week later, Cathlin was deployed with a response team to ground zero in New York City to set up medical stations amongst the rubble.
"It was my job to protect my team from the environmental hazards, but many of the first responders were not protecting themselves. I believe the mental trauma following the attacks contributed to the physical illnesses that many still suffer from today. At the time, I felt powerless to help them. This experience motivated me to learn as much about mental health conditions, such as PTSD, and its impact on first responders and military service members," Cathlin added.
Henriques and Cathlin met in 2006 and bonded over a shared desire to improve medical treatment for veterans and to accelerate the pace of innovation. Rounding out the TruGenomix Health team is Dr. Tshaka Cunningham, who has a Ph.D. in Molecular Biology and previously worked at the VA headquarters overseeing a large neurogenerative program for more than nine years.
"After having spent the last nine years serving Veterans with neurodegenerative diseases as a Scientific Program Manager in the VA Office of Research & Development, I was very excited when Yusuf and Charles approached me about joining TruGenomix Health and its mission to improve screening for PTSD," said Cunningham. "PTSD is one of the major conditions veterans face, and with many military family members and civilians around the world also affected by this condition, I shared their passion for using the power of genomics to create new and more accurate ways to screen for PTSD."
TruGenomix Health's technology spun-out of a discovery made about a decade ago by scientists at the Icahn School of Medicine at Mount Sinai and the Max Planck Society in Germany. Researchers identified a panel of genes that predict if an individual has a predisposition to develop PTSD when exposed to trauma. TruGenomix Health is focused on advancing this technology and commercializing a blood test that can help provide solutions to improve the lives, health, and future of members of the military, veterans, and their families.
"As part of Illumina Accelerator's seventh cycle, we had access to several teams of top-shelf genomics and bioinformatics experts at Illumina and were able to build our screening tool in a highly scalable fashion using cutting-edge genomic sequencing technology," said Cunningham.
"Our team benefited greatly from the fellowship and interactions with the other genomics-focused start-up companies in our cohort and in Illumina Accelerator's previous cohorts," said Henriques. "We forged some lasting and productive relationships with our peer companies and we are hopeful that our continued interactions will lead to mutually beneficial business opportunities for all of us in the future."
"We are very thankful for the time, energy, and coaching the Illumina Accelerator team invested in us and are grateful that they have joined us in our mission to battle PTSD," said Cunningham.
"PTSD sufferers may continuously re-experience a traumatic event as either flashbacks, nightmares, or negative thoughts," said Cathlin. "In the military we call PTSD an 'invisible wound.'" It's a significant public health problem that many people suffer with in silence. We at TruGenomix Health want to make to help those who sacrifice so much for their country and ultimately reduce the alarming Veteran suicide rate."
The VA offers information and downloadable resources for the support of Veterans and their families who may be dealing with PTSD or other conditions. Click here for more information. Illumina Accelerator is now accepting applications for its ninth funding cycle. For more information and to apply, click here.