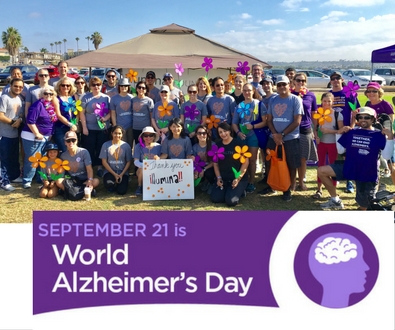 September 21, 2017
Alzheimer's disease is the most common form of dementia, yet efforts to develop a treatment to stop the devastation of the disease have been unsuccessful so far. Today, more than five million Americans are living with Alzheimer's. By 2050, this number could rise as high as 16 million. Alzheimer's costs the United States $259 billion today and could rise to $1.1 trillion by 2050. As the only leading cause of death in the US that cannot be prevented, cured or even slowed, Alzheimer's disease has killed more people than those killed by breast cancer and prostate cancer combined, and robs people of their self-sufficiency and ability to connect with friends and family. In recognition of the challenge this disease will be for society, and in an effort to fight this epidemic, the US government has proposed to increase NIH funding for Alzheimer's research by $400 million in 2018, to a total of ~$1.8 billion.
Illumina also understands the enormity of this challenge and is dedicated to Alzheimer's research, both in the technology we provide to Alzheimer's researchers, and as the nexus of an employee community that has spouses, parents, and grandparents who have been affected by the disease. In the last month, Illumina employee volunteers formed teams and participated in the Walk to End Alzheimer's in San Diego, CA; San Francisco, CA; and Madison, Wisconsin, and in the Chariots of Fire relay in support of Alzheimer's Research UK in Cambridge, UK. In our first time participating as a corporate team, it only took three weeks for our San Diego team to bring home the crown of top corporate fundraiser as well as the fastest fund raising team.
Illumina supports researchers who are using genomics to better understand Alzheimer's disease and other dementias. The researchers that we work with are trying to identify genetic biomarkers to predict and diagnose Alzheimer's at the early stage of disease, which could help drive development of drugs that prevent or delay symptomatic disease. Through working with the neurodegenerative community, we launched a multi-disease array last year and a neurodegeneration panel this year with genes that are known to be implicated in Alzheimer's disease and other neurodegenerative disorders. By providing the research community with these tools, we are honored to be a part of the work of understanding this disease.
"Understanding disease pathology and progression will be key in identifying effective drug targets, and establishing biomarkers for patient stratification, diagnosis and prognosis. Illumina's genomic technologies have already played an essential role in Alzheimer's disease research and will continue to help accelerate breakthroughs toward finding a cure," shared Dawn Barry, Vice President, New & Emerging Opportunities, Clinical Genomics at Illumina.
As a company, we are not only committed to supporting researchers who are working toward ending Alzheimer's, but we also resolve to demonstrate our support for the whole Alzheimer's community. While all of us as family members, care givers, and employees want to see the end of this disease, we realize that we are still in the early days of understanding it, and will remain committed to moving research forward.