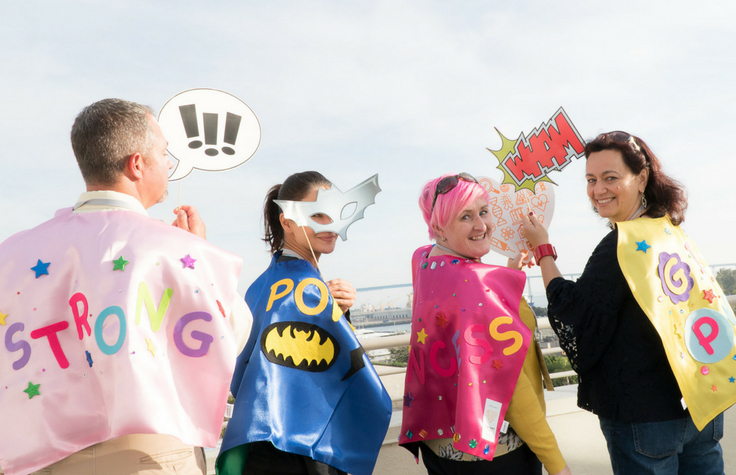 June 12, 2018
Every day, Illumina's technology enables our customers to take on the world's toughest challenges. And, equally inspirational is the difference our employees make when we give back to the communities where we live and work. Giving back has always been in our DNA. Our employees' passion fueled the creation of the Illumina in the Community program. This cohesive, global outreach effort offers employees opportunities to share their time and talent in areas like oncology, genetic disease and STEM education. Whether through local events that are personally meaningful, or through partnerships that will inspire the next generation of genomic leaders, our employees are making a positive impact in communities around the world.
Creating a Place to recover in Europe
Athens, Greece – Earlier this month at a global meeting, our service and support teams from Europe, the Middle East and Africa came together to assemble bedroom boxes to support Floga and young oncology patients. Since 1982, Floga has embraced thousands of families all over Greece by operating a guest house adjacent to the pediatric hospital. The guest house provides free accommodation to patients and their families, whilst undergoing lengthy treatments. After receiving a bedroom box, each child can customize their rooms upon arrival, ensuring it reflects their personality and becomes a safe and supportive environment.
STEM in South America
La Pintana, Chile - Seven Illumina employees met with an inspiring group of 14-year old students to share stories of how they came to work in the field of genomics. Together, they explored the group's genetic superpowers and taught them how both Illumina and next-generation sequencing are making a positive impact on the world around them. Building the future of genomics starts with preparing today's youth to be tomorrow's scientists, inventors and innovators. At Illumina, we are committed to inspiring the next generation through STEM education.
"Festive Cheer with a Heart" in Asia
Woodlands, Singapore - This week, in conjunction with the Singapore Cancer Society, 55 Singapore-based Illumina employees prepared and delivered 100 parcels of daily food essentials, known locally as "festive food packs," to beneficiaries in the local cancer community. Each package celebrates Hari Raya Puasa, a major Singaporean and Malay holiday in celebration of the end of Ramadan. Through both preparation and delivery, employees have the opportunity to connect with their communities and reinforce the message that no one is alone in their fight against cancer.
Cape of Good Hope
At our annual Global Sales Meeting, staff from around the world decorated superhero capes for hospitalized children. More than 250 colorful superhero capes have been donated to pediatric patients at Rady Children's Hospital in San Diego, CA; Xinhua Hospital in Shanghai, China; Royal Children's Hospital in Melbourne, Australia; and Addenbrookes Hospital in Cambridge, England.
These are just a few examples of what we've done in the last few weeks. Whether it be through local events, or large global gatherings, giving back is in our DNA.
Dive deeper into what we accomplished together in 2017 here.
Learn more about how Illumina is committed to working with our communities to make a meaningful difference here.