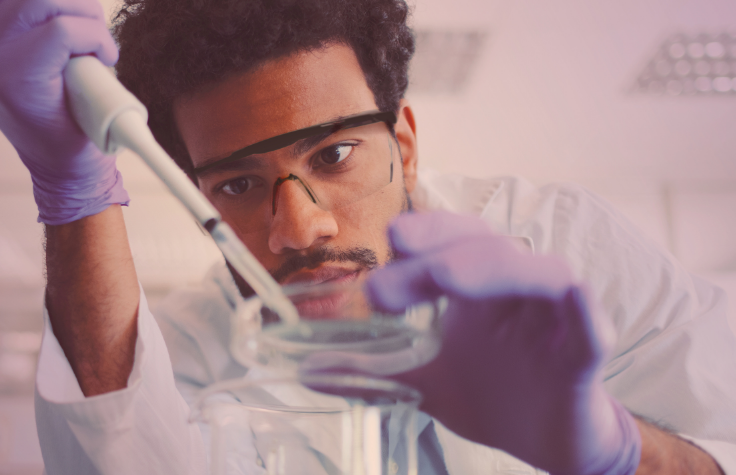 April 6, 2021
Illumina has always been committed to a more equitable and sustainable future, and the challenges of 2020 gave us myriad opportunities to demonstrate our shared values and global citizenship. In We Focus on Impact, our second annual Corporate Social Responsibility (CSR) Report, Illumina details its strategy focused on making a positive impact on humanity, not just through our technology, but through our actions.
"CSR provides a lens to evaluate business opportunities and ensure decisions benefit all our stakeholders—not just investors, but our employees, customers, suppliers, the environment, and the communities in which we operate," says Sam Samad, Chief Financial Officer of Illumina.
Our CSR strategy focuses on our most material issues and the unique ways we can impact the global community. We prioritize the following focus areas: access to genomics, empowering our community, and environmental sustainability. We support these with the foundational elements of our people and our integrity.
This year's report brought even more transparency in order to provide a comprehensive and integrated view of our commitments, progress, and activities related to environmental, social, and governance issues. New this year are frameworks from the Sustainable Accounting Standards Board (SASB) and Task Force on Climate-related Financial Disclosures (TCFD). Illumina is one of more than 1,500 organizations publicly supporting the recommendations of the TCFD, and globally, we are only the seventh in our industry. We conducted our first climate scenario analysis and expanded our Global Reporting Initiative (GRI) level of disclosure. Our investors requested more information about our climate change management and the material links to our business—and we answered the call.
But what does this mean for the rest of us? For partners, employees, and customers? Here are some highlights:
1. We debuted the $600 genome. In July, we released the NovaSeq 6000 v1.5 Reagent Kit, a significant step toward achieving the $100 genome. Enabling innovation allows us to lower costs, which means removing barriers to access.

2. Our sequencers went to Africa. Illumina donated US $1.4 million worth of sequencing systems and related consumables to the African member states. Six months later, in October, Illumina joined a cross-sector partnership to launch the Africa Pathogen Genomics Initiative (Africa PGI) to help strengthen pathogen surveillance capacity in 20 countries across the continent. Illumina plans to donate NGS platforms, reagents, and training support worth approximately US $20 million over four years.

3. Illumina advocated for expanded insurance coverage and broadened access in the US. Over the last four years, there has been a 100 percent increase in lives affected by next generation sequencing (NGS) covered by insurers. This year we saw significant gains toward more equitable access in the United States through Medicaid coverage, accounting for nearly 50 percent of US pregnancies.

4. Giving back is in our DNA. We donated more than US $13 million to support COVID response, racial inequalities, rare disease nonprofits, STEM education projects, and disaster response.

5. We reacted quickly when COVID-19 hit. For employees, we maintained our full workforce with zero furloughs or COVID-related reductions. We also increased emergency and back-up childcare program offerings, distributed $1,000 COVID Care cash allowance, and offered more than 40 global virtual volunteer opportunities, enabling people to volunteer from home.

6. We got creative with packaging. Many of our products are temperature sensitive, which creates unique requirements for packaging, shipping, and storage. We shifted the NovaSeq crate material to a recyclable alternative, reducing the weight by 100 lbs. We launched ambient shipping for NextSeq flowcells and saw a 75 percent decrease in waste footprint. We launched a plant-based paper insulated container solution that is 100 percent curbside recyclable and compostable. And, we developed a tool for the safe and easy disassembly of the NextSeq 1000 and 2000 sequencer cartridges to optimize recycling options for reagent cartridges.

7. We're practicing DIF—Diversity, Inclusion, and Fairness. Although our DIF efforts did not begin in 2020, we recognized the need for more urgent action. The violence and acts of racial injustice in 2020 highlighted the stark and continuing disparities in economics, education, wealth, and access to equitable healthcare. We are making progress, but much remains to be done. A few of the steps we took were joining the CEO Action Pledge for Diversity & Inclusion, hiring a Vice President of Diversity & Inclusion, creating a new employee resource group, and committing to increasing representation in both our workforce and leadership.

8. We put in the time. Employees volunteered over 5,000 hours. We gave back US $573,000 and the Foundation matched us US $721,000.

9. We maintained our zero net gap in pay. Translation: equal pay for the same or similar work, regardless of gender, ethnicity, or race. Women currently occupy 36 percent of senior leadership roles. We have seen a 5 percent increase of women in senior leader roles globally over the last three years—and we've pledged to continue to do better.

10. 250 patients received whole-genome sequencing through Illumina iHope. Illumina made contributions to the iHope philanthropic consortium that supports underserved children with undiagnosed genetic diseases around the globe. Our goal for 2021 is to reach 400 patients.
Despite the challenges of 2020, we saw the positive impact of science, technology, and the unprecedented possibilities that can be brought to life when we work together. We will continue to strive to be the best employer, environmental steward, and corporate citizens we can possibly be.
Read the full report here.