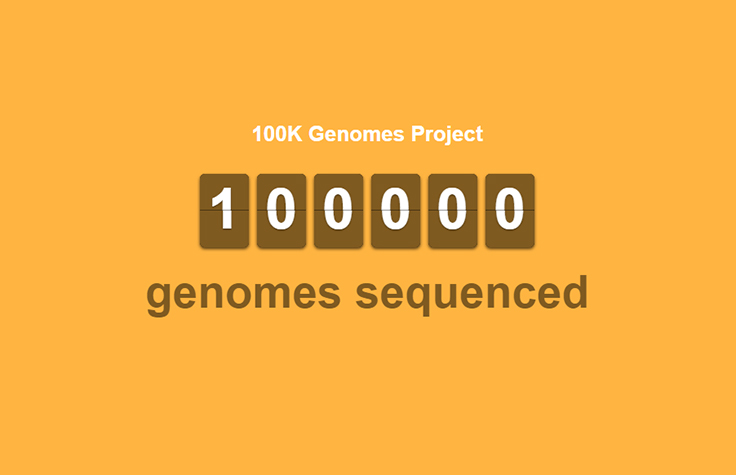 December 5, 2018
The collaboration between Illumina, Genomics England, and the United Kingdom's National Health Services sequenced its 100,000th genome as part of the UKs' pioneering 100,000 Genomes Project – a program with huge significance for the future of genomic medicine.
This important milestone in our partnership with Genomics England marks a significant step towards delivering whole genome sequencing at scale into the NHS and provides physicians with the data to make diagnoses based on a patient's genome that will lead to better health outcomes. Achieving this landmark has only been made possible through the generous participation of tens of thousands of patients and their families. Click here to view the GEL news release.
Illumina employees at the Genomics England labs at Hinxton in the UK, and staff at Genomic Medicine Centers (GMCs), as well as those in Northern Ireland, Scotland, and Wales, have worked tirelessly to deliver the project. In many cases, they have also pioneered new systems, processes, and procedures to ensure that genomic medicine can become part of routine NHS care in the future.
Francis deSouza, Illumina's President and CEO said: "We congratulate Genomics England and the NHS for reaching this historic achievement and are honored to be part of it. The accomplishment of the 100,000th genome is only the beginning in many respects, but a significant step towards realizing the promise of genomic medicine to develop products for earlier detection and treatment of many rare diseases and cancers."
While many developed countries are working on genomic medicine initiatives, no other has the reach and impact of the 100,000 Genomes Project, recruiting participants through care and treating them through routine channels due to the unique structure of the NHS. It's currently the largest national sequencing project of its kind in the world.
This project has seen participants with rare diseases already benefitting from faster diagnoses, and those with cancer receiving personalized treatment programs only made possible by the project. By providing better insight into the cause of diseases and how diseases develop in each individual, the aim is to ensure medicine becomes more targeted.
Whole genome sequencing gives a more complete picture of the precise genetic changes causing an individual's cancer, offering a greater range of treatment options. Early analysis has found genetic changes in cancer patients, could potentially provide new therapies through clinical trials for some of these patients.
Illumina's innovation is accelerating the value of genomic medicine by marrying translational research with clinical care at scale. This will improve patient outcomes in the future, as well as reduce the cost of sequencing and possibly, healthcare costs too.
Genomic testing is changing the lives of people with rare diseases and cancers. This partnership, and today's groundbreaking milestone, is a testament in forging a path that defines the future for whole genome sequencing and for genomic medicine.